Prague Žižkov District Guide: Žižkov is vibrant, beautiful and central. Get to know Žižkov with this insider's guide to one of Prague's best neighborhoods.


Prague Trip Planning Resources: Where to Stay | Things to Do | What to Pack
Žižkov, Prague is frequently considered by residents to be one of the best neighborhoods in Prague. And it's easy to see why.
Prague's Žižkov district is full of cafes, pubs and boutique restaurants fit to impress any foodie. They all offer prices that won't clean out your wallet.
Prague Žižkov is also quite central. There are plenty of options for getting to the city center on public transportation.
Sharing a border with the more affluent Vinohrady district, Žižkov is a bit hipper than Vinohrady. It's also a bit cheaper – and much cheaper than Old Town Prague or Mala Strana.
Hip, convenient, and affordable – Žižkov Prague is perfect for traveler's looking to 'go local.'
Who Should Stay in Žižkov
With more of a neighborhood feel than Old Town Prague, Žižkov is one of the quiet and more affordable areas to stay in Prague.
It's a great option for those who want to feel like they're in a real neighborhood. Anyone who wants to stay close to the action…but not too close…should consider the Prague Žižkov district.
It's a great choice for everyone from cash-strapped backpackers to young, professional couples. Adventurous travelers who are content getting off the beaten path will enjoy Žižkov.
Who should stay in Zizkov?
Anyone looking to dip their toes into real Czech culture, even if you don't speak Czech.
Young travelers and backpackers who are over the party scene and want to find a good, affordable place to stay.
Couples with kids who want to be close to the center, but don't want to worry about little ones being woken up by revelers (in fact, anyone who appreciates quiet!).
Explorers who aren't afraid to go down a local street and get lost looking for the perfect little cafe, pub or vinotek!
If you came to Prague to party and are looking to keep things going all night long – and then continue halfway into the afternoon – Žižkov isn't the right choice for you. For partying, you'll want to stay closer to the center in Old Town.
Pros and Cons of Staying in Žižkov
Pros:
Central and convenient
Bars and restaurants everywhere
Many public transportation connections
Very safe, for the most part. Women aren't afraid to walk alone at night in most parts of Žižkov
Very walkable, not just to the center, but around and through the neighborhood as well
Cons:
It might be hard to make new friends, as people and groups aren't so welcoming
Most of the restaurants and pubs only serve Czech food, which can be a pro or a con, depending on your palette!
Parking is a pure nightmare. If you have a rental car, there will likely be nowhere to park
People smoke marijuana outside pubs and in parks. It's not illegal and locals don't care, but you may not be used to that.
Where to Stay in Žižkov
Limit yourself to staying from Seifertova St. south to Vinohradská St. (a little bit north of Seifertova is fine too), and from Chopinova St. west to Jičínská St.
Žižkov is bigger that what is defined above, but outside those borders is more residential, and not as pretty. Once you get west of Jičínská, for example, the scenery drastically changes to communist-era buildings, and things look more run-down.
There are many hostels around Seifertova street; the tram line direct to the center, close proximity to the main rail station, and local university make this area perfect for the younger crowd.
As you get closer to Náměstí Jiřího z Poděbrad, things get more grown-up, making it a good choice for the 30+ crowd.
Despite things looking rougher around the edges outside the borders set out above, there are still plenty of pubs throughout Žižkov and the neighborhood is still quite safe, especially during the day.
---
Best Žižkov Hotels
3-Star Hotels in Prague Zizkov:
4-Star Hotels in Prague Zizkov:
5-Star Hotels in Prague Zizkov:
Hostels in Prague Zizkov: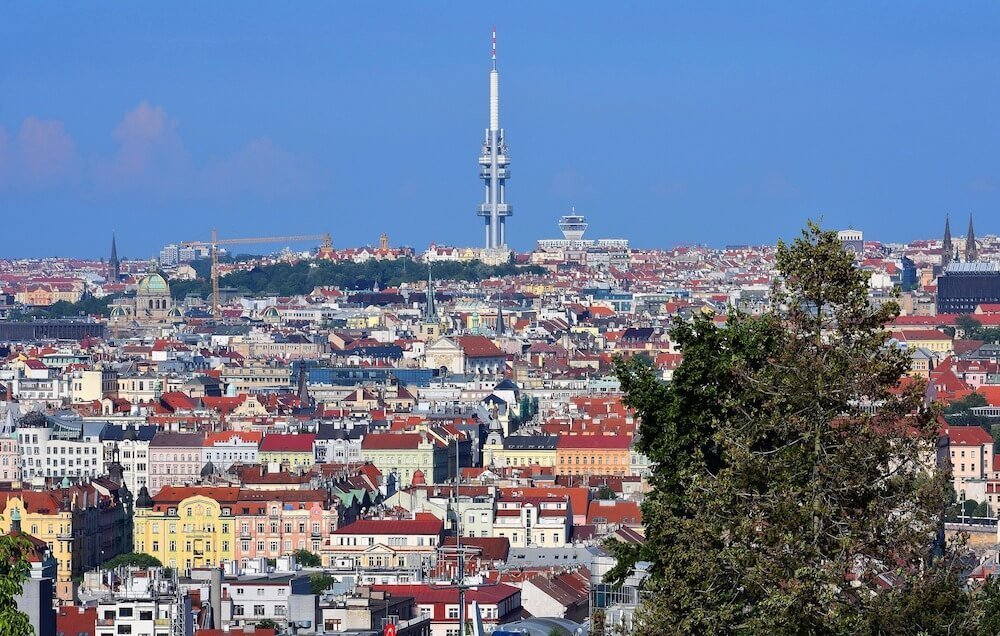 What to See in Žižkov District, Prague
The Žižkov TV tower is a perennial favorite with tourists. It has one of the best views of the city, is host to the Žižkov tower restaurant, and even has a very cool one-room hotel.
Yep. A one-room hotel in a TV tower. It's certainly a one-of-a-kind experience.
Prices for the one room in the Zizkov tower hotel start at €500 a night. You can book the hotel room here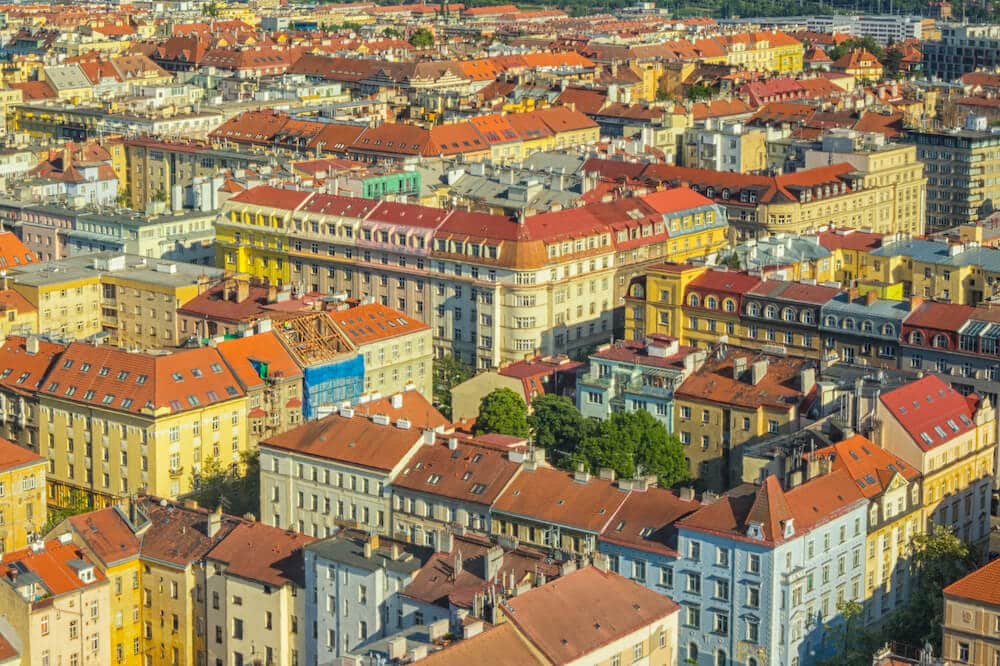 An easy stroll from the Žižkov TV tower will take you to Náměstí Jiřího z Poděbrad Square.
It's a nice square that's home to an eponymously-named metro station. It's also home to Kostel Nejsvětějšího Srdce Páně (Church of the Most Sacred Heart of Our Lord). This is one of the most important Czech religious constructions of the 20th century.
The square also has the largest clock in the entire Czech Republic.
Many foreign residents struggle with the pronunciation of Jiřího z Poděbrad. That's why many expats refer to this areas as JZP, or jay-zee-pee.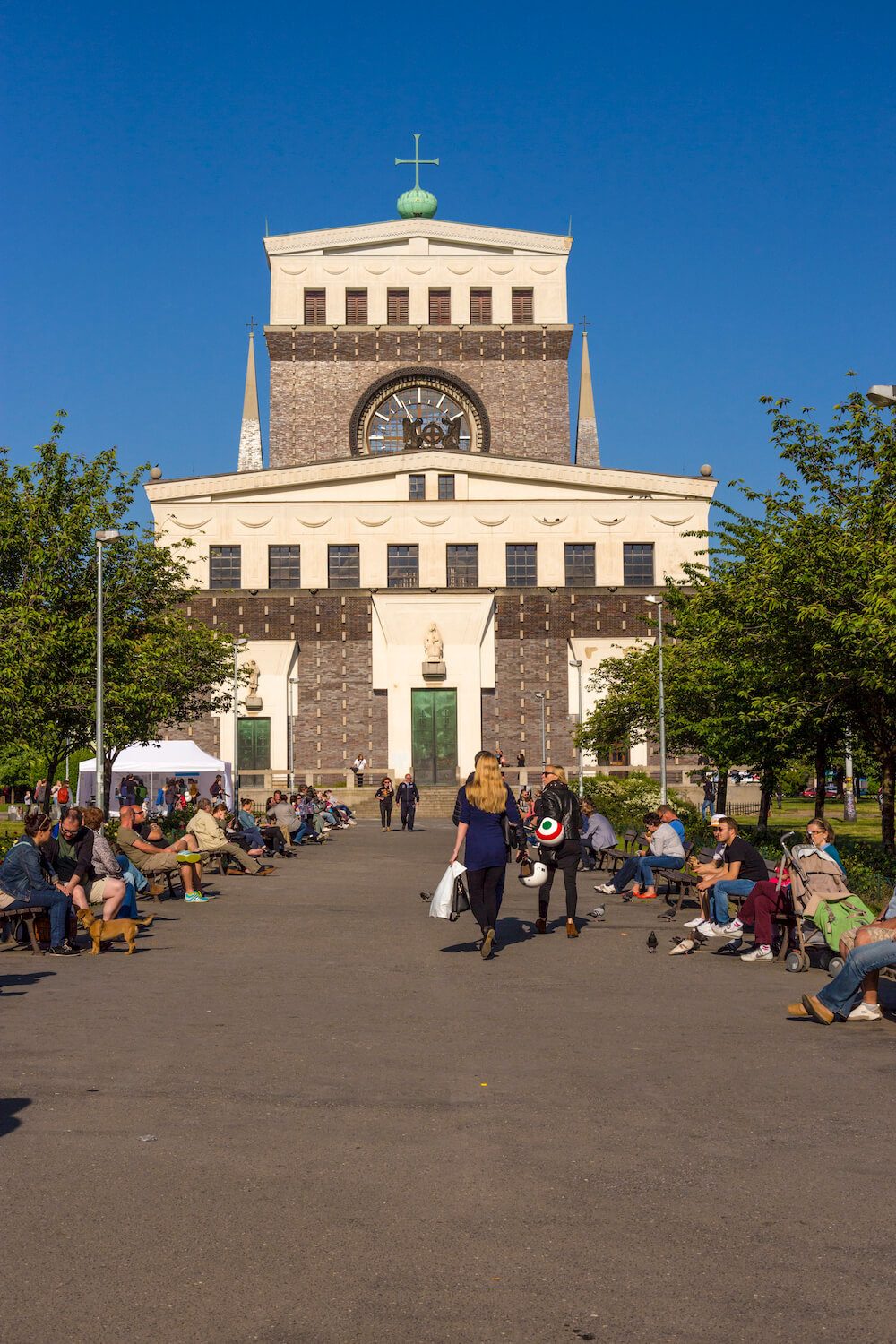 In summer, the square is a popular spot for festivals. You'll also find a regular farmer's market here. Throughout the year, locals like to hang out at the square, soaking in the ambiance.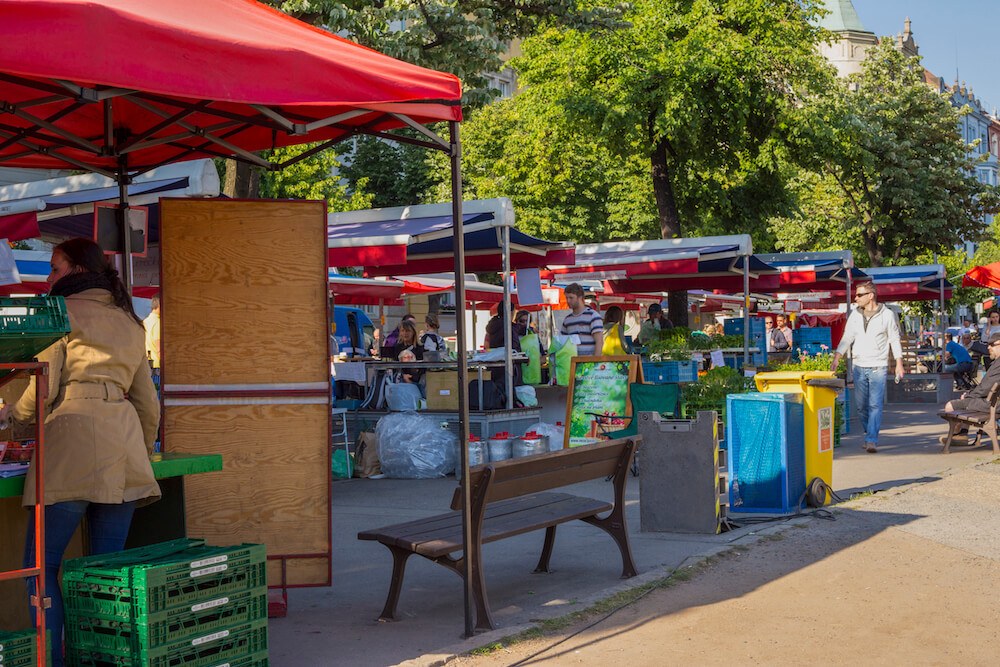 Transportation & Accessibility to Other Sites from the Žižkov Neighborhood, Prague
Part of Žižkov district's allure for locals is that's it's super easy to get to.
The A (Green) metro line station stops at Jiriho z Podebrad square. It takes you to Prague Old Town in three stops (5 minutes). It will take you to the Mala Strana area of Prague, close to Prague Castle, in five stops.
Žižkov is also well-located in reference to the train station. If you plan on doing a number of day trips from Prague – we recommend the Kutna Hora Bone Church, small city of Pilsen, and Karlstejn Castle – this could be a bonus!
If you want to stay above ground, you can take the tram or walk. Many trams run along Vinohradská and Seifertova streets. You can get almost anywhere in the city using the trams.
You can also walk. A 30-minute stroll will take you to Václavské Náměstí (Wenceslas Square) in the heart of the city center. From Wenceslas Square, it's a very short walk to Old Town, Prague.
If you choose to walk, you'll pass some interesting sites along the way. The main train station and the national museum are both en route.
If you're planning to stay in Zizkov, I strongly recommend getting a private transfer from the airport upon arrival. This is the least stressful way of arriving in the city, especially when toting around luggage.
What to Do in Žižkov District
During the summer, the beer garden in Riegrovy Sady park is one of the best things to do in Prague.
You can enjoy the beer garden itself. Or you can do what the locals do: grab a beer, and then watch the sunset.
The west-facing hill in Riegrovy Sady park has one of the best views in Prague. It's a perfect spot for watching the sun set behind Prague Castle.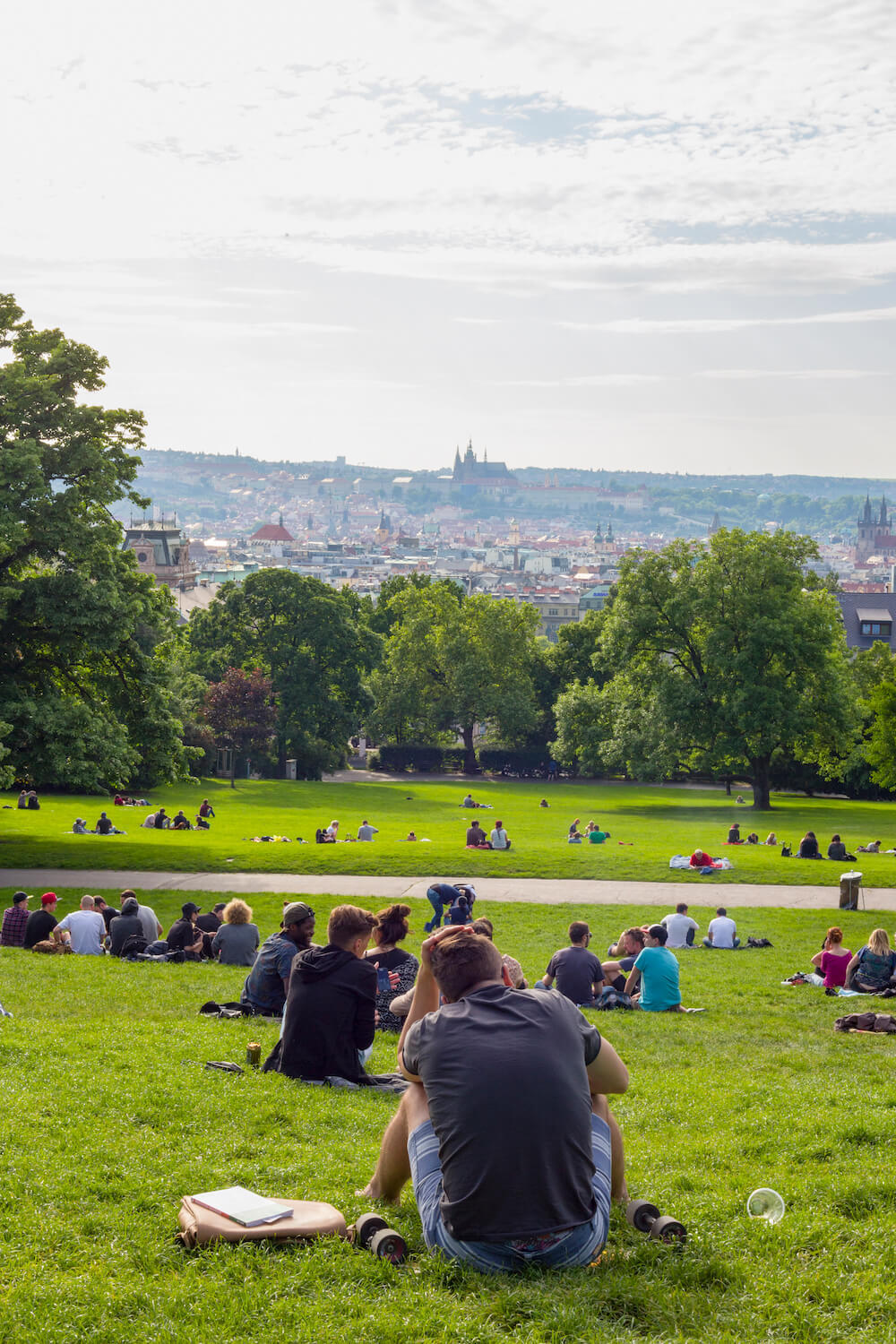 Žižkov has a mellow, local vibe.
Since there isn't much sightseeing, most of the entertainment involves chatting with friends. Find a favorite cafe or restaurant, or hang out on JZP square.
During the summer, locals prefer sidewalk seating. Filled with sidewalk café tables, the neighborhood is alive with people socializing. In the winter, people take their catching up inside.
Don't worry if you don't speak Czech. There's no need to feel intimidated about visiting local establishments in Žižkov. You'll find them all to be welcoming.
Prague Žižkov District Shopping Guide
Atrium Flora is a modern shopping mall with stores, a cinema, and supermarket. It's one stop away Jiriho z Podebrad on the A (Green) line.
For more unique shopping, visit Bohemian Retro (Chvalova 8). It's a vintage clothing and accessories store near the TV tower that will have you stylish in short order.
The farmers market at Náměstí Jiřího z Poděbrad is a must-visit if you're shopping in Žižkov. You'll find many local wines and snacks on offer. It's open year-round from 8am to 8pm, Wednesday through Friday, and from 8am until 2pm on Saturdays.
---
Where to Eat in Žižkov: Žižkov Restaurants
Most of the best places are near Žižkov's fuzzy border with the more affluent Vinohrady district. With a pub on almost every block, there's something for everyone.
For traditional Czech cuisine and delicious micro-brewed beer, head to U Sadu (Škroupovo Náměstí 5). Located in the shadow of the TV tower, you'll find eclectic decor here. Fun fact: they accept payment in Bitcoin!
If you're on the northern end of Žižkov looking for a quick bite, Yes Burger (Seifertova 14) offers more than just burgers. They have a few locations in the city and all are popular with locals.
For something more upscale, La Bottega Gastronomica (Ondříčkova 17) is 30 meters away from the TV tower. The Italian-style cuisine is delicious and the wine selection is magnificent.
Las Adelitas (Lucemburská 6) offers authentic Mexican and Tex-Mex food. Owned by a family from Guadalajara, Mexico, there are three locations in the city. It's so good, we've heard of people living in Germany driving a few hours to eat there! It's also the only place you'll find a passable margarita in Prague.
For coffee and breakfast in Žižkov, Le Caveau Bakery (Náměstí Jiřího z Poděbrad 9) can't be beat. Excellent coffee and baked goods that French expats swear by. Get there early because seats and breads go fast.
Worth noting, reservations are usually needed in Prague. If you want to go somewhere, call a few hours in advance to reserve a table. On Friday or Saturday after 8 pm, finding a place to drop in is very difficult.
Žižkov Prague Nightlife & Bars
Czechs drink more beer per capita than anyone else on earth, and they like their wine too! As a result, there are plenty of pubs and vinoteks along the streets of Prague — and this is especially true in Žižkov.
While pubs rule, Žižkov isn't known for its raging dance-club scene (for that, you need to go to the city centre).
Live music and some dancing can be had at Palac Akropolis (Kubelíkova 1548/27). Check their website to see the schedule before you go.
For cocktails Bukowski's Bar (Bořivojova 86) does a good job for a hip crowd.
If you're looking for something a little more upscale, Manesova Bar and Books (Mánesova 64) is a great choice. It's also reasonably priced.
Beer lovers will not be able to stay away from Beer Geek (Vinohradská 62). Their selection is outrageous and changes daily. You'll find everything from local craft beers to foreign favorites. Be sure to make a reservation any night of the week, and mind your head when using the front door.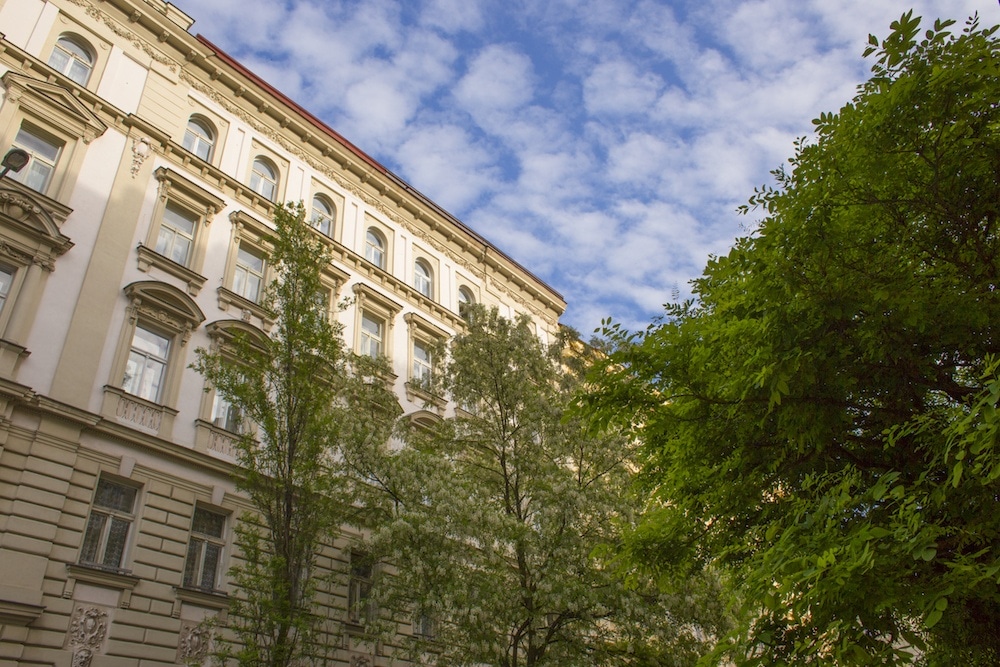 Safety Tips for Žižkov
Prague on the whole is quite safe.
Žižkov has a reputation among locals as being home to lots of Roma people, who are sometimes associated with crime. This is never an issue in the "inner" part of Žižkov as defined above.
The streets won't be bustling with people, especially in the winter, but that doesn't make it unsafe. Walking alone, day or night, even if you've had a few drinks is very safe.
Of course, you should use common sense and be aware of your surroundings, as in any other city. Here are some of my top tips for avoiding pickpockets, although that is more of a concern in the denser tourist areas of the city.
There are a few police stations in Žižkov, but they are more useful for handling complaints about lost wallets and passing out parking tickets. If you do find you need the police, calling 112 will bring them very quickly.
Czechs are experienced drinkers and Žižkov is a very relaxed neighborhood. Getting involved in a drunken brawl isn't common as the neighborhood is mostly locals simply enjoying their weekends.
Hopefully, you'll enjoy Žižkov, too!
---
Pin this Post!