Old Town Prague is romantic, beautiful and right in the city center. Get to know the Prague Old Town with this insider's guide to one of Prague's most beautiful areas to stay, eat and visit.


Prague Trip Planning Resources: Where to Stay | Things to Do | What to Pack
Insider's Guide to Prague's Old Town District
For centuries, Prague's Old Town (Staromestska) has been the center of the action. In the past, kings, dignitaries and noblemen walked though Old Town along the Royal Route to Mala Strana.
These days, tourists fill the Royal Route- although this part of Prague still feels very regal.
Throughout history, titans of science and astronomy, religion, philosophy, arts have all lived and worked in Old Town, Prague. Back then, Prague's Old Town was the vibrant beating heart of the city.
Today, not much has changed, and you'll find Prague's Old Town Square to be full of charm and ambiance!
Who Should Stay in the Old Town of Prague
Anyone who likes to be close to all the action will enjoy staying in the Old Town, Prague.
Most of the popular tourist sites are located in Old Town. If you purchase a Prague Card, it includes admission to 60+ attractions, including most of the sites that a tourist will want to visit.
There is also plenty of public transportation access.
Add to that, Old Town has dining, dancing and drinking for almost every budget. That said, it's still more expensive than Prague's other neighborhoods.
If you're not into crowds or loud revelry at all hours of the night, Old Town won't be for you. Although some of the high-end hotels in Old Town are more out of the way, and many offer good sound isolation.
Pros and Cons of Staying in the Old Town in Prague
Pros:
In the center of it all
Popular areas like the Charles Bridge are empty in the morning. Staying in Old Town makes it easier to see before the crowds arrive.
Plenty of other tourists to party with
Walkable, like most of Prague. You may not require any public transportation if you stay in Old Town and like walking.
Something for everyone and every budget
Cons:
Crowded with tourists
Locals may not be very helpful since many are trying to get out of Old Town
It's easy to get turned around and lost
Loud, especially on weekends
Prices are higher than in other Prague neighborhoods
Where to Stay in Prague, Old Town
Old Town stretches north-south from the National Theater to Revoluční street. The Vlatava River forms its western border, stretching east to either Mustek or the main train station, depending who you ask.
Nowhere in Old Town is a bad place to stay: it's all a mix of residential, business and tourist areas. Hostels can be found right next to more expensive hotels.
Right near the main train station and certain parts of Wenceslas Square are rougher than the rest of Old Town. These areas are well-patrolled by police and have very few problems. We used to live right off Wenceslas Square, and still found it to be very safe.
You may find your 4-star hotel next to a cabaret (gentlemen's club) but it really won't be a problem. Perhaps look at what is around your hotel choice on Google maps before booking.
Best Hotels in Prague Old Town
3-Star Hotels in Prague Old Town:
4-Star Hotels in Prague Old Town:
5-Star Hotels in Prague Old Town:
Hostels in Prague Old Town:
If none of these Old Town hotels strike your fancy, check out our complete guide to where to stay in Prague.
---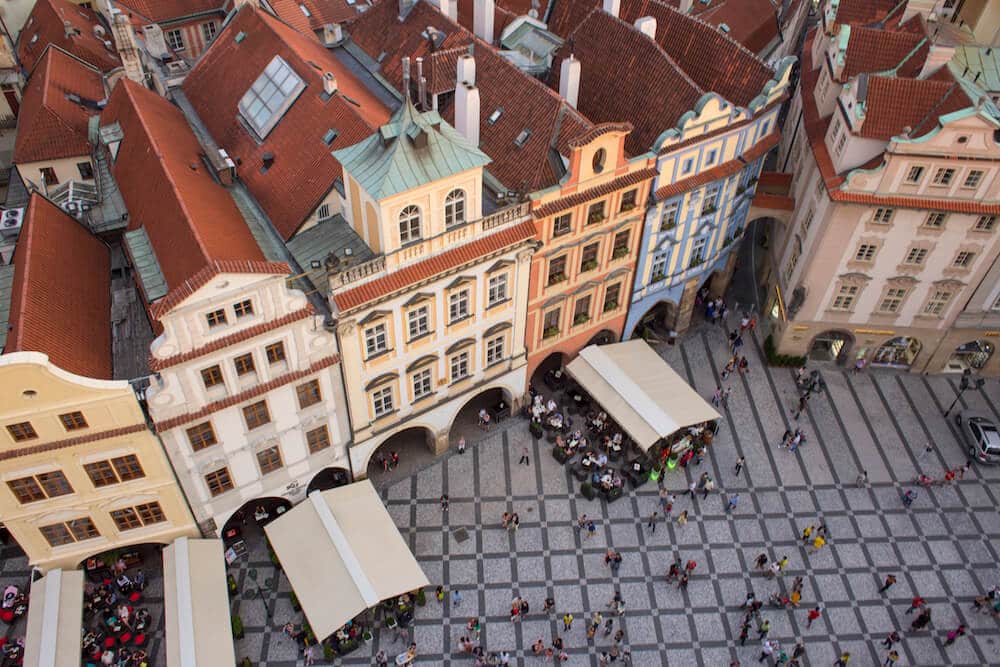 Things to See in Prague Old Town
In my opinion, the best way for a first-timer to see Old Town is on a walking tour, where a local guide can make sure you don't miss out on any of the hidden treasures or history. This private guided walking tour is one of the most popular tours among my readers!
The Old Town Square in Prague (Staromestske Namesti) is a must see – many of the best things to do in Prague are located right here.
Climb the Prague Old Town Hall tower and peer down on the Church of Our Lady Before Tyn, where astronomer Tycho Brahe is buried.
This is hands-down one of the best views of Prague, and quite a bit different from what you'll find in Zizkov district from the Zizkov TV tower.
If you happen to be in Prague in snowy weather, the view from Old Town Hall tower is an incredible way to enjoy Prague in the snow!
On your way to Prague's Old Town Hall , you can't help but pass the world's oldest functioning astronomical clock. Parts of this Old Town Square clock were built in 1410, and it continues to tick away to this day. At the top of the hour, the Old Town clock puts on a show.
Charles Bridge is also a must-visit attraction. The bridge takes you across the river to the Mala Strana district, where you'll find Prague Castle.
Prague Castle is a must-see attraction. If you purchase a Prague card, admission will be included. Otherwise, it's best to book a guided tour like this one, which will allow you to skip the lines and get a great tour from a local guide.
For more tips on visiting this iconic site, see our guide to visiting Prague Castle.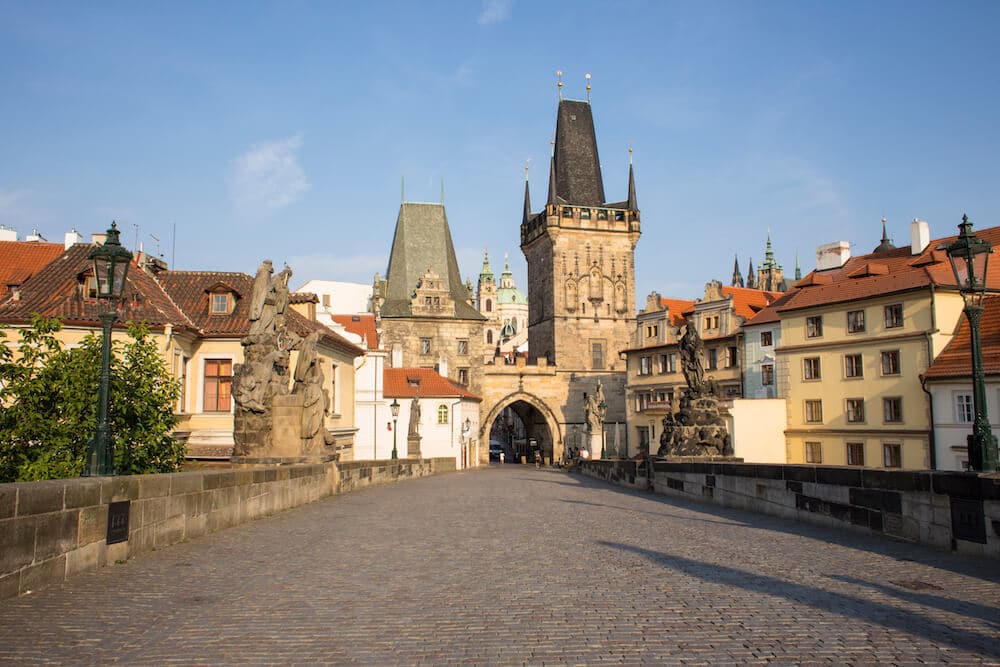 It's possible to follow the Royal Route from the Powder Tower in Old Town to Charles Bridge via Old Town Square. Once you cross the bridge, the Royal Route continues through Mala Strana to Prague Castle.
---
Things to Do in Old Town Prague
The true center of the city, there are plenty of things to do in Prague Old Town.
If you're in Prague during Easter or Christmas, the market on Old Town square is a big hit. Prague's Old Town Square markets are the biggest in the city. If you want something more local, head to Namesti Miru in Vinohrady district.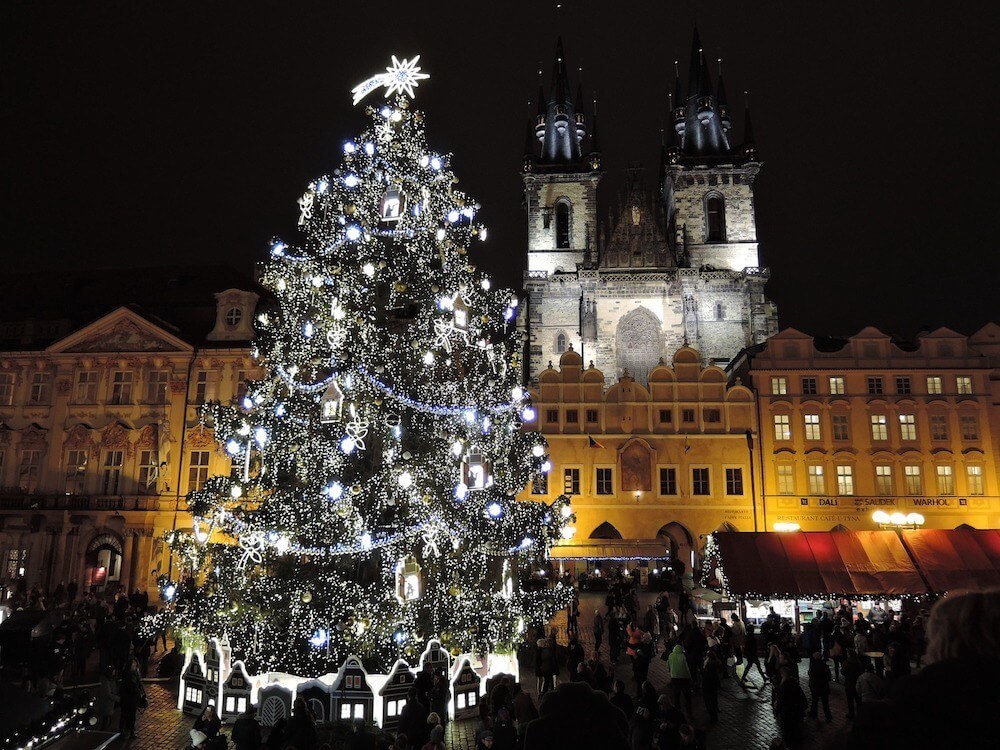 The Klementinum is a little difficult to find, but well worth the trip. It's a beautiful old library (you can't go all the way inside) and observatory with a unique view of the city. The observatory tour is worth the view alone.
You can add some culture to your trip by taking in a concert. The 133-year-old Rudolfinum is a good choice. So is the The Estates Theatre, where Mozart performed.
Buy and eat Trdelnik (pronounced "tur-del-neek") or Trdlo from a stand. Cooked on a spit, this cake is a favorite all over the Czech Republic.
"Trdlo" is also slang for "sweetie" for some Czechs; eat one and you will see why! You can find Trdelnik everywhere in Prague, but our favorite is in the Mala Strana area, across the river – you really should try it from a few different places!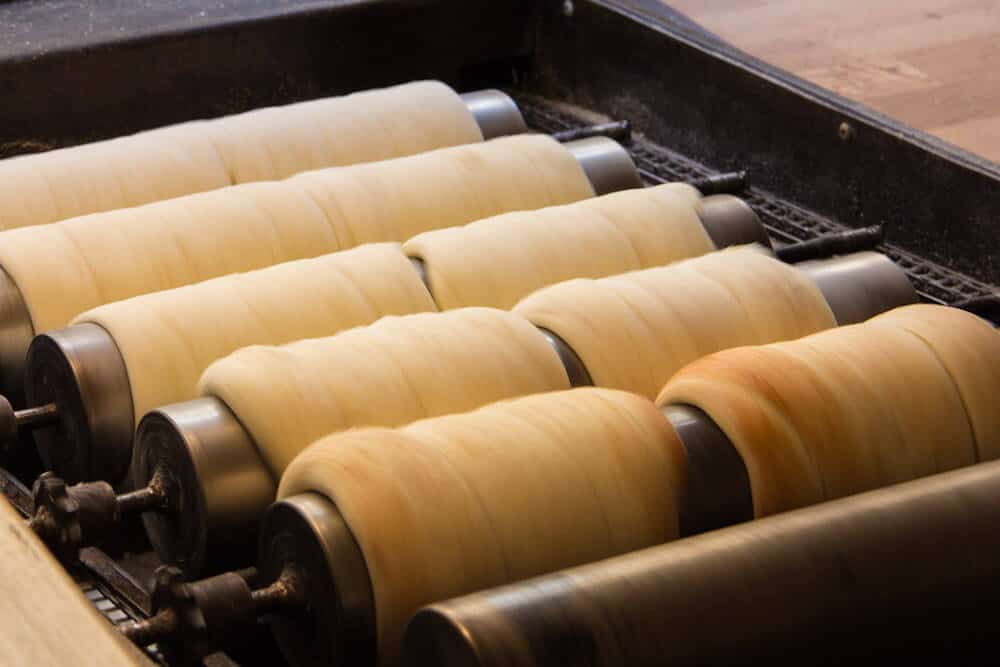 If you are an early riser, take advantage of the sunrise and enjoy the sites without the crowds. Old Town Square and the Charles Bridge are virtually empty at 6 a.m.. It will feel like they belong all to you!
A morning stroll is perfect for getting photos that don't have 10,000 of your closest friends in them.
If you're a shutterbug looking for an iconic photo of Old Town, you have to actually leave Old Town to get it. One of the best views of Old Town is actually the view from Letna Park beer garden!
Check out the rest of our favorite photo spots for some truly captivating views of the city. And don't miss our list of the best things to do in Prague too!
For even more ideas on how to spend your time, check out these top things to do in Old Town.
Transportation & Accessibility to Other Sites
The A (Green) and B (Yellow) metro lines have stops in Prague Old Town, and there are many tram lines to get you there. Because it's right at the center of the city, there are plenty of transportation options for getting out to some of Prague's cool neighborhoods to explore!
Walking is the best way to navigate Old Town Prague. While it is easy to get turned around, you will never be far from public transport!
For those arriving by train, or if you plan to take a number of day trips from Prague to destinations like Pilsen, the Kutna Hora Bone Church, or Karlstejn Castle, Old Town is relatively close to the main train station, Prague HLN. It's a 16-minute walk from Old Town Square to the train station, or two metro stops.
If you're staying in Old Town, I do recommend booking a private transfer from the airport. It's the most stress-free way of arriving in the city – Prague's taxi system can be a bit frustrating to navigate.
---
Old Town Shopping Guide
For something quick, Palladium at Namesti Republiky has everything you need. This former army barracks has been converted into a modern mall with dozens of stores.
Upscale shoppers should visit Pařížská Street near Old Town Square. Tiffany, Rolex, Cartier and Prada all have homes here. Pařížská street is Prague's luxury shopping destination.
Wandering the streets will also pay off in Old Town. There are hundreds of souvenir and knick-knack stores at every turn.
We also like Manufaktura, which has a few locations in Old Town. The store sells traditional Czech wooden toys and bath and home products. We love the beer and wine shampoo and body care products – they make a great gift for taking home!
---
Best Restaurants in Prague, Old Town
Wondering where to eat in Prague's Old Town?
Many restaurants line the edge of Old Town Square. Most of the Prague Old Town Square restaurants are good, but expensive.
Czechs get upset if they have to pay more than 50czk for a .5L beer. In Old Town, you're more likely to pay up to 90czk for that same beer.
Reasonably-priced, traditional Czech cuisine can be found at Krčma (Kostečná 4), very close to the square.
La Casa Blů (Kozí 15) is also good, with a a friendly, eclectic atmosphere. Their food is also eclectic: a mix of Mexican-Latin American-Spanish-American. Choose from burritos, nachos, tacos, and burgers, and wash it down with sangria!
Lokál (Dlouhá 33) is a favorite with locals and tourists. This modern take on a traditional beer hall is more beer hall than modern. That said, they pull fresh pints from a tank, not a barrel, and you can tell the difference. Pro Tip: you must request waiters to stop bringing you fresh beer: they will not stop unless you tell them to!
Vegetarians, and omnivores, will enjoy MAITREA (Týnská ulička 6) which is a popular date-night choice.
The burgers at T-Anker (Náměstí Republiky 8) are alright and the beer is good too, but the view from the terrace is the best part. You have to use an elevator outside the path around Kotva department store to get in.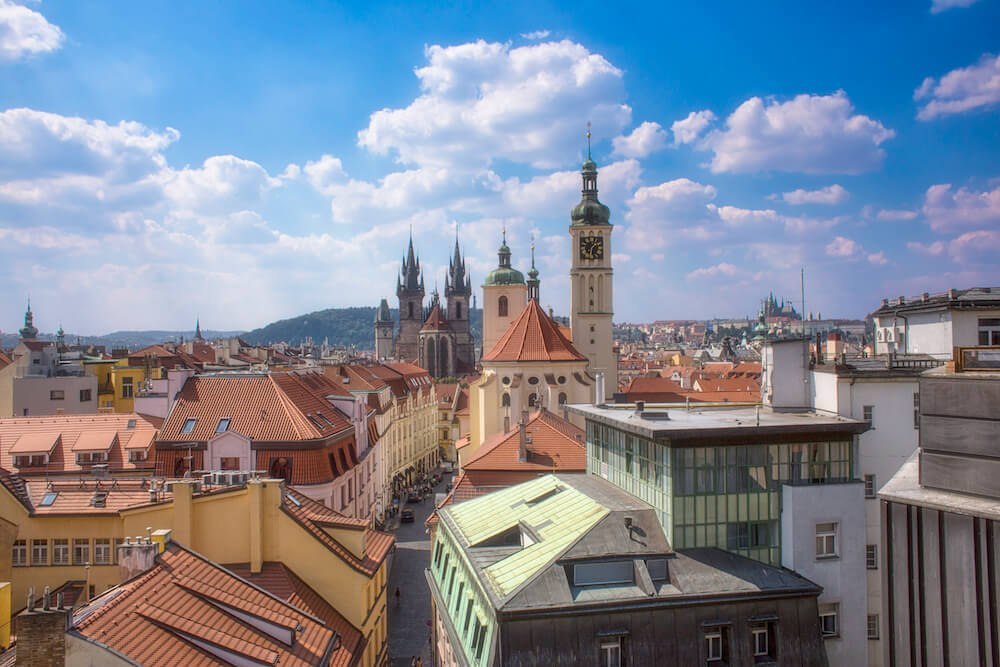 Zlatá Praha (Pařížská 30) also has a great view and is perfect for the discerning palate.
Kavárna Slavia (Smetanovo nábřeží 2) is popular among locals and theater goers and is well priced.
Café Louvre (Národní 22) has been serving French and Czech cuisine for over 100 years. They must be doing something right! It was good enough for former regulars Albert Einstein and Franz Kafka.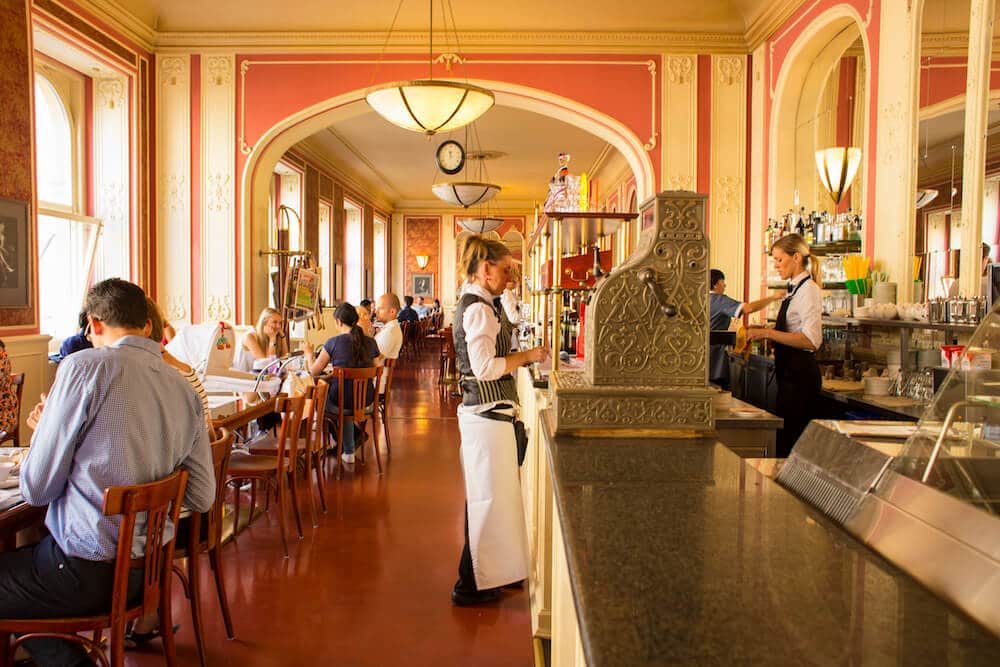 Finally, you can satisfy your sweet tooth at Angelato (Rytířská 27): some of the best gelato in the city.
---
Best Bars in Prague Old Town: A Guide Old Town Nightlife
In Old Town Prague, nearly every place that looks like a bar will have a dance club in the basement. For nightlife, it might just be the best place to stay in Prague!
Popular spots around Old Town Square include Aloha Bar (Dušní 11), Harley's Bar (Dlouhá 18), James Dean (V Kolkovně 1), Deja Vu (Jakubská 6) and Chapeau Rouge (Jakubská 2).
Other popular dance clubs include Nebe (V Celnici 4), Roxy (Dlouhá 33), Popocafepetl (Michalská 15), Karlovy lázně (Novotného lávka 13) and the Fri. and Sat. 1980s nights at Lucerna (Vodičkova 36).
For cocktails, Hemingway Bar (Karoliny Světlé 26), Anonymous Bar (Michalská 12), Tynska Bar and Books (Týnská 19),Tretter's (V Kolkovně 3) will keep you happy. Hemingway Bar has traditional absinthe service. Make a reservation for any of these options.
Scotch drinkers shouldn't miss Whiskeria in the Jindřišská věž (Henry's Tower). The setting is intimate and perfect for a dram, and staff know their stuff. Reservations required here, as well.
Old Town Prague is also rife with Irish pubs where you can enjoy a pint and relax with other tourists. Locals visit The James Joyce (U Obecního dvora 4), and that is about it. Quiz night is on Monday; reservations required.
---
---
Safety Tips for Old Town, Prague
The Czech Republic is one of the safest countries in the world, and Prague generally is safe. Old Town is also quite safe.
The very worst thing most people will encounter is a drunken dust-up between tourists. Steer clear and everything will be fine.
Beggars are common but they usually give up quickly if you keep moving and mind your own business. Many beggars know how to ask for change in a handful of languages.
Opportunistic taxi drivers, pickpockets and shady money changers are the most common problem. Never change money on the street with a random person – always use a stand or kiosk.
Standard personal safety rules for Europe apply in Prague. Keep an eye on your bags at all times as well as your pockets. Calling 112 will get you police or emergency services, but any pickpockets will be long gone before help arrives. Here are some tips for avoiding pickpockets!
If you want to avoid the hassle of a Pargue taxi when you arrive in town, I strongly recommend booking a private transfer from the airport.
---
Pin This Guide!