The Best Day Trips from Berlin: The 7 Best Day Trips from Berlin, as Told By a Local Berliner. Includes DIY Instructions for all Berlin Day Trips, as well as Tour Recommendations.
We created this post in collaboration with Marco Buch, a Berlin-based film producer, travel writer and globetrotter with more than 70 countries under his belt, and a love for weird forms of transport! Find all his stories and travel advice at Life is a Trip. We're thrilled Marco agreed to serve as our Berlin expert for this Best Day Trips from Berlin guide; the trip ideas and words are all his, but we have added in the tour info, for those of you who don't want to DIY the Berlin day trips.


Among tourists and travelers, Berlin has been one of the most popular European cities to visit for many years now. With a wild party scene, international and artistic vibe, plenty of history, as well as the affordable lifestyle for locals and visitors, people from all over the world are drawn to Germany's capital. It is easy and cheap to have a good time here, and there's plenty to keep you busy.
But once you've sampled the various international cuisines, roamed all the galleries and danced a few nights away in Berlin's infamous nightclubs, you might want to get out of the city for a day, and explore one of the many day trips from Berlin. You might be surprised to find a wide variety of activities surrounding Berlin, with something for everyone.
For some of these day trips from Berlin, you'll actually stay inside the city limits, and use public transportation to get there and back. For these, you might want to pick up a Berlin Welcome Card prior to your arrival, which includes free transportation in the AB and ABC Zones.
Other day trips from Berlin will take you to Brandenburg, the federal state surrounding Berlin.
With that introduction out of the way, we give you….
Our Picks for the 7 Best Day Trips from Berlin:
While You're Here…
Read More About Germany & Plan Your Trip with These Links
See all our Germany content on our Germany Home Page! If you're heading to Czech Republic, Netherlands, or Austria next, we have some great stuff about those countries, too :)
Where to Stay in Berlin: A neighborhood guide to help you find the best area to stay in Berlin, no matter what your travel style!
If you're looking for things to do in Berlin, we asked a local expat about her favourite Berlin Tips from a Local. If you're interested in WWII history, check out our take on the Holocaust Memorial in Berlin, and keep your eyes open for Stolperstein around the city.
If you're heading south, check out our Where to Stay in Munich Guide for the coolest neighborhoods in Bavaria's capital!
If you're planning a trip to Frankfurt, we asked a friend and fellow blogger about the best places to visit and things to do in Frankfurt, her adopted home city.
Finally, we explored the lesser visited city of Hannover Germany, and had a great time! Check out our Hannover City Guide, and read about the small but touching war memorials we saw throughout the city.
1. Liepnitzsee
Take a day trip from Berlin to Liepnitzsee, one of the most beautiful lakes in the Berlin area and a perfect spot to unwind from your explorations within the city.
This picturesque lake will make you forget about the hectic city in just a few minutes. In spite of being one of the most popular lakes around Berlin and one of the cleanest in all of Brandenburg, you can still find many quiet spots. The lake sits amidst untouched nature which is good for swimming, hiking and biking.
While it's not entirely legal (but is great fun), many people pitch a tent on the island and stay overnight. If you do so, please make sure you take all your trash with you afterwards!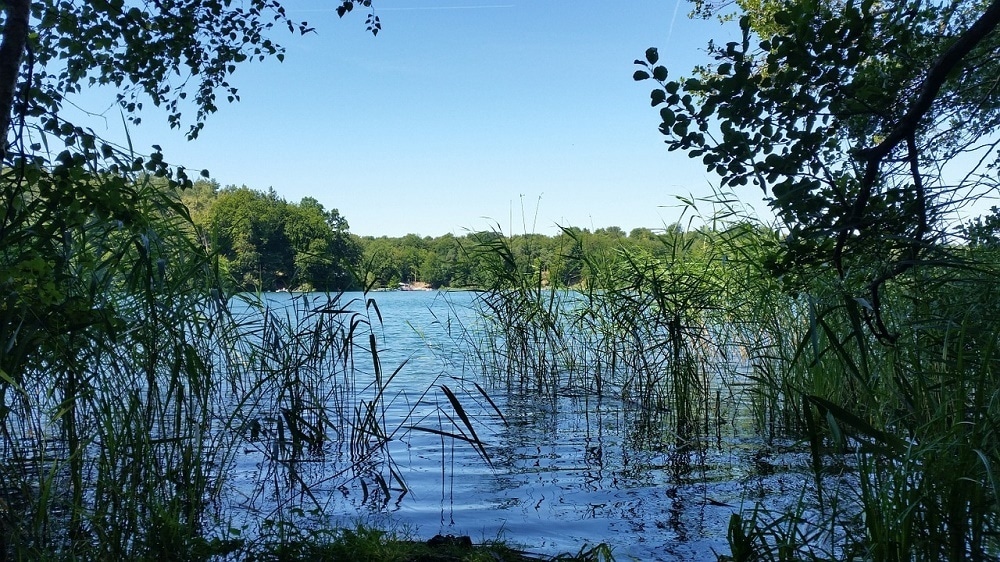 How to Get to Liepnitzsse from Berlin: Liepnitzsse can most easily be reached by car, which is the most convenient option (if you have a car). By car, take the A11 until Lanke. You can also take the train, via the S2 to Bernau or a regional train to Wandlitz, which gets you a bit closer to the lake.
Note, if you take the train, you're still a bit far away from the lake when you disembark, which is why Marco recommends combining a train trip with bike to get there. You can either diembark at the stations above and cycle, or you can follow Marco's recommendation for the most romantic way to get there. take the S2 to Berlin-Buch; it is still in the AB zone which will set you back € 2,80. From there, it's an 18 km bike ride through beautiful nature. Make sure to bring something to eat as there aren't many places to buy groceries close to the lake.
If you're visiting Berlin without a bike, don't worry – they are easy to rent! If you're the organized type, or if you're traveling during high season, you can rent a bike in Berlin online. Otherwise, you can ask around once you're in the city!
2. Potsdam

Take a day trip from Berlin to Potsdam, the beautiful and charming capital of Brandenburg state!
From one capital to the next: Not far from Berlin you'll find the capital of the federal state of Brandenburg, Potsdam. And Potsdam is always worth a trip!
This little charming city has been constantly transformed since the fall of the Wall and is now a sheer pleasure to look at. Don't miss the stunning castle of Sanssouci, the exciting film museum and the surreal Dutch quarter. If you are into Cold War history, a stop at the Glienicker bridge will be interesting, too: it is here that the Americans and the Soviets exchanged spies during the Cold War!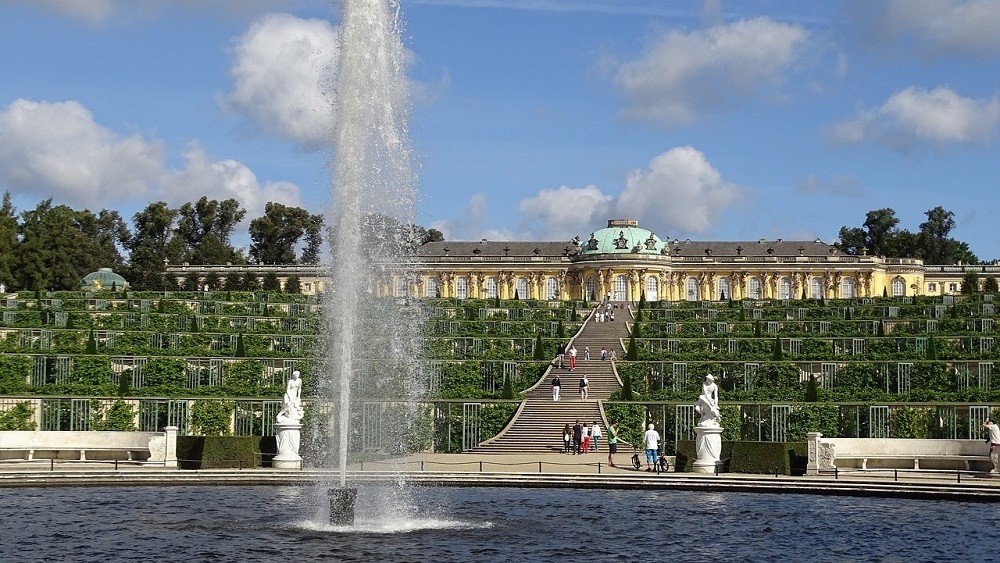 How to Get to Potsdam from Berlin: Potsdam basically begins where Berlin ends, so it is quite easy to get there. Most convenient is taking the S1 train right to Potsdam Central Station, which should take less than an hour.
A more picturesque option is to ride a bicycle through Berlin's wealthy south, past villas, forests and waterways. Basically, just always follow the Havel river, and it will take you right to charming Potsdam.
3. The Wall Trail
Take a day trip from Berlin along the Wall Trail, tracing the border of what used to be West Berlin.
Not a day trip, per se, but well worth a day of your trip! One of my favorite suggestions for visitors in Berlin is following the Wall Trail, which is basically a trail along the old wall around West Berlin. Altogether, the trail spans over 160 kilometers, but the outer parts have a little less to offer. So if you have only one day to play with beyond seeing Berlin's highlights, just visit the part of the wall that once divided East and West Berlin. If you take that part, you'll get a full-on city tour with many of Berlin's major sights as you go.
Just so you know: You won't actually see much of the wall anymore these days, but this is still a great tour where you can learn a lot about Berlin's recent history.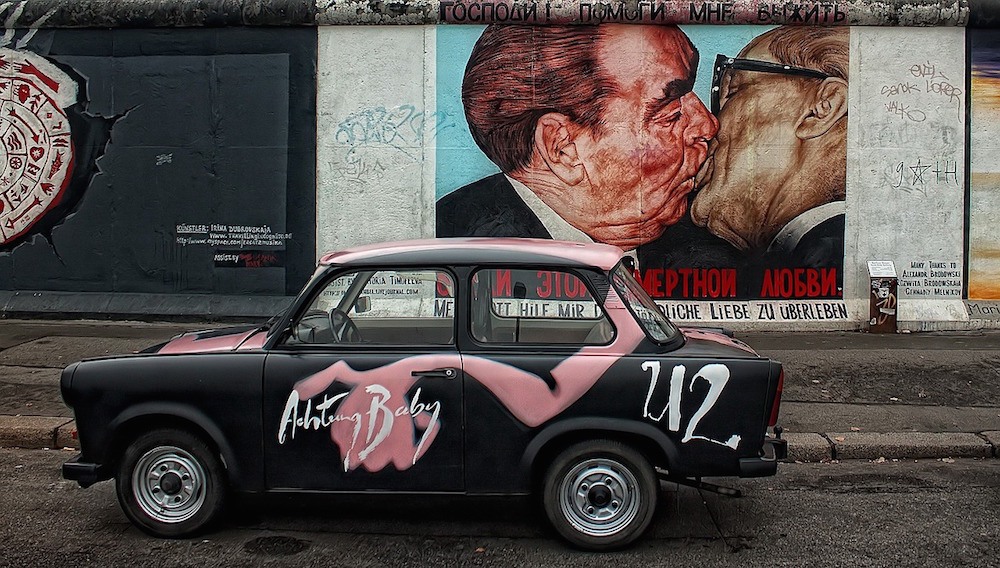 How to Follow the Wall Trail in Berlin: This trip is best done on a bicycle and it takes you right through the heart of Berlin. Start at the former embassy area of the GDR, North of Bornholmer Strasse. Follow the 'Wall Trail' signs as far as you want to go (on Google maps, the wall trail is written as Berliner Mauerweg). If you want to spend an entire day following the wall trail, I recommend taking the trail all the way until the East Side Gallery. And don't miss all the information signs telling you the stories of wall times along the way. I recommend getting a map ahead of time, such as this digital version that you can print, so you don't get lost!
Take a Berlin Wall Tour: If you want to do the entire Wall Trail, you're on your own – we unfortunately couldn't find a tour that covers the entire thing. The good news is, however, there are loads of Berlin Wall tours that are highly-rated, cover some of the most important parts, and cover the best stories. For cultural travellers and those with a lot of intellectual curiosity for a topic, we always recommend Context Travel, which organizes "walking seminars" led by Masters-level or PhD-holding guides and subject experts. Context's Walking the Wall tour is led by an expert in 20th century history, for example. If you want more of an overview, or are looking for something more affordable, we'd suggest you check out the tours listed on Get Your Guide. For example, the Berlin Wall 3.5 Hour Bike Tour is rated 4.8/5 based on 37 reviews. The 3-Hour Bike the Berlin Wall with a Local tour also looks good, although has far fewer reviews.
4. Wünsdorf
Take a day trip from Berlin to Wünsdorf, and come face-to-face with German military history.
If you are a history buff or into lost places, this makes a great day trip from Berlin. This strange place has lots of bunkers, tunnels and a military museum that takes you through several dark periods of German history.
A communication headquarters during Nazi times and a general headquartes for the Soviets after the war, Wünsdorf is now a fascinating place to visit. Definitely do not miss the adjoining town, where there is an exhibition of 350.000 books from various genres…the tourism board has even tried to brand Wünsdorf as the "book and bunker" town!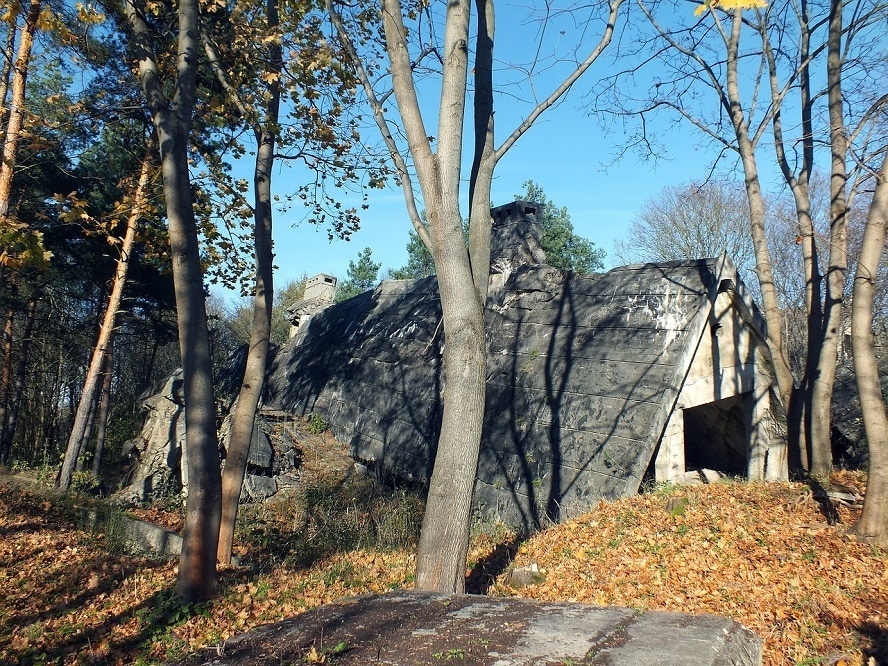 How to Get to Wünsdorf from Berlin: Wünsdorf is about 60 km from Berlin. While it's unfortunately not the easiest to get to, it is possible. It's easiest to reach if you have a car, taking the B96 south. Alternatively, you can take a train from Alexanderplatz, or a bus on weekdays. The tourism board lists transportation details on their website, here.
Note that once you're in Wünsdorf, the interesting points are also quite far from each other, which makes getting around not so easy. Your best bet may be arranging a private guide in Berlin, who can arrange an end-to-end trip for you.
Final note: If you want to take a tour through the tunnels and bunkers – which I absolutely recommend – make sure you bring good shoes as the terrain is rough and sometimes wet.
---
Need a place to stay in Berlin? Check out our Where to Stay in Berlin Guide, which outlines the best neighborhoods to stay in Berlin, and lists accommodation in each. We also have guides to Munich, Prague, Vienna, and more!
---
5. Spreewald
Take a day trip from Berlin to Spreewald, an area of picture-perfect villages that feel a world away from Germany's capital!
This amazing area is about 85 kilometers from Berlin, but well worth a visit. The river Spree meanders through a lush forest here, making for a very exceptional landscape. The area and the pretty villages can best be explored by kayak or on a tour in a traditional rowboat.
If you still have energy at the end of the day, check out Tropical Islands, a weird jungle underneath a gigantic plastic roof. It is especially worth a visit in winter, as they keep it a constant 35 ℃ / 95 ℉ in there, and the place features indoor balloon rides and flamingos. Yes, you heard that right!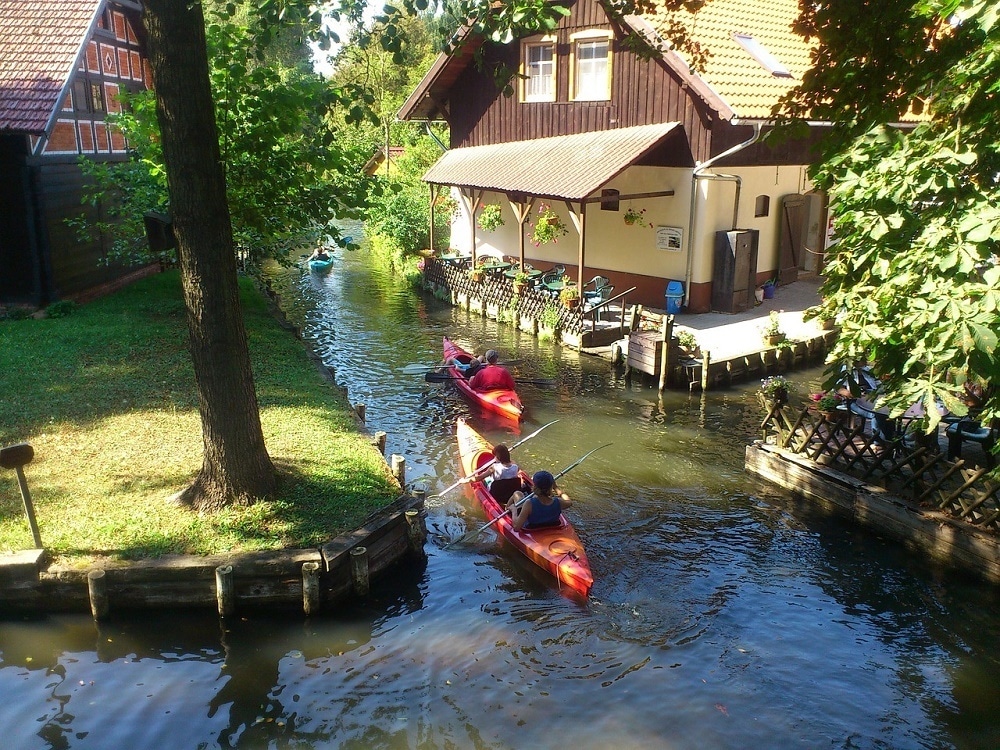 How to Get to Spreewald from Berlin: Spreewald is easiest to reach with a car. You can also take the train to the main village of Lübben in less than an hour, from where you can arrange a kayak or boat trip. Make sure to bring swim clothes whenever you go. In summer, it is the kayak ride that will get you wet. In winter, it will be Tropical Islands!
Spreewald Day Trip from Berlin: Get Your Guide offers a highly rated day trip from Berlin to Spreewald, which includes a boat trip. Rated 4.5/5 based on 110 reviews, the trip saves the hassle of renting a car and figuring out train timetables and boat rentals.
6. Märkische Schweiz
Take a day trip from Berlin to Märkische Schweiz, a unique landscape filled with lakes, hills and villages!
The landscape of this region, 60 kilometers northeast of Berlin, is unique. Formed by the last ice age, you will find hills and lakes reminding you of mountainous areas in Germany's South. The small, but stunning nature park is great for hiking, cycling and swimming. The main village of Buckow is home to many artists and musicians and offers a great amount of interesting events during summertime.
How to Get to Märkische Schweiz from Berlin: If you feel like a bit of an active trip you can take the S5 all the way to the not-so-pretty town of Strausberg, then cycle the last 14 kilometers through lush nature. Alternatively, you can take a bus or train. By public transport, first go to Müncheberg, and then switch for Buckow.
Make sure to bring your swimwear, as this area is packed with beautiful lakes.
7. Beelitz Heilstätten
Take a day trip from Berlin to Beelitz Heilstätten, a former hospital that has been abandoned for decades!
Another one of the last remaining "lost places" in and around Berlin, this former lung hospital is a great place to explore. Tours lead you deep inside the stunning building which has now been rotting away for decades. After the tour, enjoy the brand new canopy set up in the forest right next to the hospital.
The village of Beelitz itself is charming, too, and is most famous for its asparagus!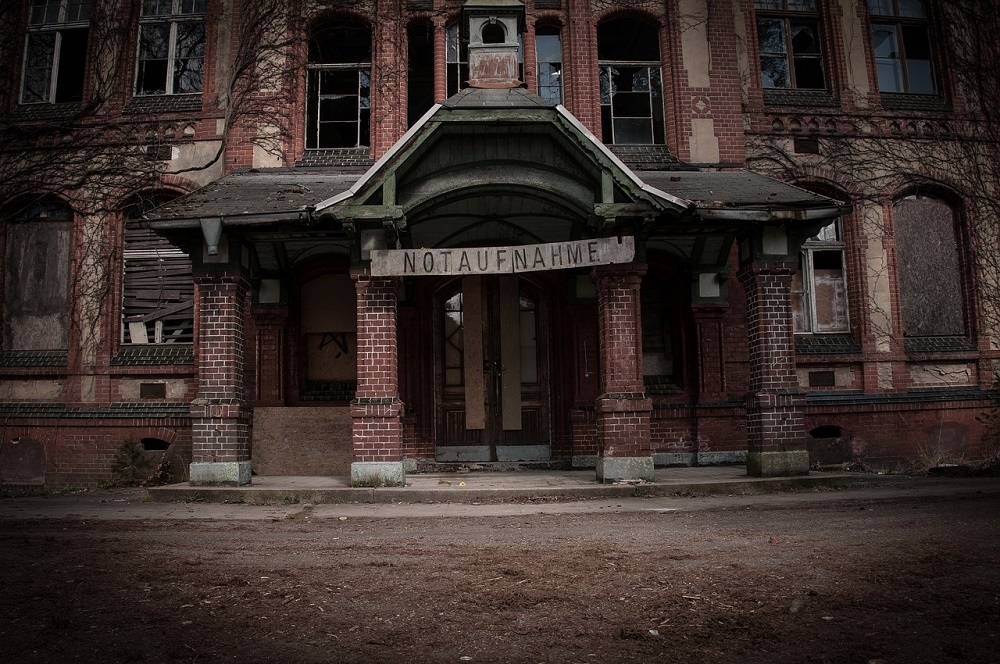 How to Visit Beelitz Heilstätten from Berlin: Beelitz is located about 60 kilometers from Berlin and can best be reached by car. Alternatively, you can go by train, but they do not run very often. Make sure to bring good shoes and maybe a flashlight if you want to explore the dark corners of the hospital. That said, we'd probably recommend a tour for this one, due to safety considerations.
Take a Tour of Beelitz Heilstätten from Berlin: History buffs might want to consider taking a tour with a guide who will explain everything about this mysterious building in Brandenburg. Tours depart from Berlin with a minivan and last about 4.5 hours, so it doesn't take a whole day of your trip. The From Berlin: guided tour of the Beelitzer Heilstätten includes transportation, a free drink and admission, and starts at $58 per person.
8. More Berlin Day Trip Inspiration
Just in case you haven't found the Berlin Day Trip you're looking for, we've listed a few more options below! These aren't part of Marco's suggestions…just some additional options in case you're still looking for ideas!
Day Trip to Dresden: A trip to Dresden makes for a long day, but it is doable from Berlin, either on your own via train (about 2.5 hours each way) or on a small group tour. When we've visited Dresden in the past, we quite liked it. It's small and walkable in the Old Town, and there are cool pockets outside of the historical city centre. Organized tours last about 10 hours, and this one is highly rated, getting 4.6/5 based on 56 reviews (at the time of writing).
1/2 Day Trip to Teufelsberg: This looks like an awesome option for those interested in Cold War history, and US military history. Teufelsberg is located within the Berlin city limits, but outside of the city centre, and can be visited in under 3 hours, round trip, on a tour. It is a former monitoring station for the US Army during the cold war, and has a weird abandoned space ship look to it. No longer functioning, it now serves as a massive street art and graffiti gallery.
Sachsenhausen Concentration Camp Day Trip: If you'd like to learn more about Nazi concentration camps, and see what they were like first hand, the Sachsenhauser camp is accessible from Berlin, and provides a sombre reminder of this dark period in European and German history. Tours are very affordable, at less than €20.
That's it: the 7 best day trips from Berlin that we'd recommend (and have recommended) to our friends and family, if they were planning a trip to Berlin. If you think we're missing one, we'd love to hear about it – leave a comment! And if you take one of the suggested tours, we'd also really love to hear how it goes!
Also, feel free to pin this for later!