Easily reachable from Dublin and filled with stunning hiking, beautiful manor houses, and lush green scenery, a DIY Wicklow Mountains tour is a treat for anyone who ventures a visit to this lovely area. This First Time Guide to the Wicklow Mountains contains everything you need to plan your trip.
This is a guest post from Marta Correale of Learning Escapes.


Disclosure: This Wicklow Mountains Tour post contains affiliate links. That means we earn a commission when you use the links on this site to book a hotel, buy your travel insurance, shop for travel essentials, etc.. You don't pay anything extra. If you'd like to learn more about how this works, you can read more under our Disclaimer page.
***
The Wicklow Mountains are a small mountain range in the East of Ireland. They stretch for several kilometres along the Irish coast and roll gently between the city of Dublin to the north, up to the edges of Counties Wexford and Carlow to the south and east.With their highest peak reaching less than 1000 metres above sea level, the Wicklow Mountains do not compete with other ranges for record breaking heights. However, they do tower above the countryside around them, offer stunning views over the Irish Sea, and have some beautiful hikes. Indeed, the Wicklow Mountains compensate for their not stellar altitude with some truly gorgeous sights.
This area is well known by locals, who flock here on sunny days for hikes and nature walks, but international tourists often neglect it. A couple of sights, such as Glendalough, do appear on standard Irish itineraries, but the mountains themselves tend to be ignored.
With this guide, we want to make sure you add a stop here, and even spend a few days in Wicklow, on your next visit to Ireland. You won't be disappointed!
Planning a DIY Wicklow Mountains Tour: Table of Contents
Must-See Sites in the Wicklow Mountains
---
Introducing the Wicklow Mountains: Where They Are & How to Get There
Where are the Wicklow Mountains?
The Wicklow Mountains are in the southeast of the Republic of Ireland, about an hour drive or less from Dublin, heading south. They tower above County Wicklow, the region of Ireland that gives them their name, and run parallel to the coast and the Irish Sea, which is often easy to spot from their peaks.
This area offers a mix of landscapes: on the lower lands, you have impressive manors and manicured gardens such as the ones in Powerscourt, which are world famous. As soon as you start hiking you feel like you are leaving civilization behind as you find yourself in front of a vast, green and windswept landscape that reflects the traditional image of green Ireland.
How to Get to the Wicklow Mountains?
From Dublin, you can reach the Wicklow Mountains by either car or bus (or bike!), or you can take a train to Country Wicklow and rent a car from there.
Getting to the Wicklow Mountains By Car:
The easiest way to access the area is by car.
Driving to the Wicklow Mountains from Dublin, the first part of the drive is along a national road and then a motorway, making the driving easy.
As you get closer to the mountains, the roads get narrower and sometimes steep. Caution is mandatory here: while not treacherous as such, the narrow bends on some of the roads require you go slow and travelling in darkness should be avoided.
Despite this warning, I don't want you to get so scared of these roads as to stay away! The roads here are well kept and the standard precautions you would use on any mountain road will suffice.
Driving remains the best and most flexible way to visit the area. Local transport does not serve the entrance to the Wicklow Mountains walking routes, and relying on local taxis can be time consuming and not kind on the budget.
---
Geoff & Katie's Advice for Renting a Car in Ireland…if You're Not Used to Driving on the Left!
We often rent cars when visiting new countries, but we understand the hesitation about renting a car in Ireland if – like us – you're used to driving on the right side of the road. We recommend renting a car from a pick-up location that's a bit outside of town, and spending a bit of time practicing before you hit the road. It's also great to have someone in the passenger seat to remind the driver which lane to turn into, and to watch out in case the car gets too close to the curb. For the best deal on cars, we tend to stick to RentalCars.com, which we've found turns up some of the best prices, and lets us choose between local mom and pop rental shops and international brands like Hertz and Budget.
---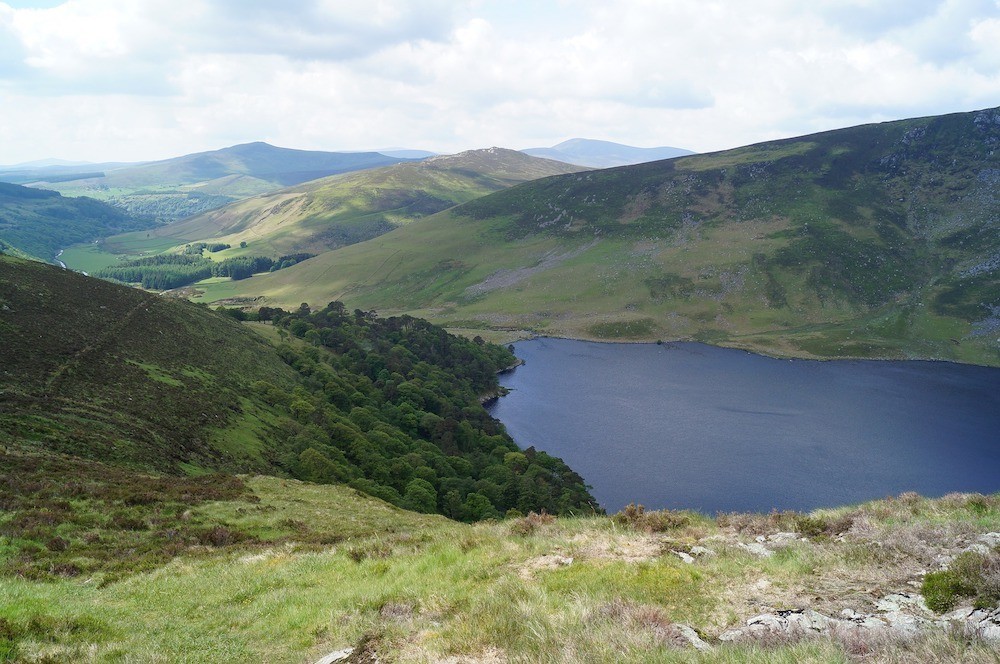 Wicklow Mountains Bus:
Regular buses connect Dublin with some locations in Co. Wicklow. They are a great option to get to some of the main towns in the area, but not so convenient if you want to hike and explore more remote areas. The full bus timetable can be found on the Bus Eireann Website: localities to check out are Ashford, Enniskerry, Wicklow town and Glendalough.
Taking the Train:
The train connects Dublin with several locations in Wicklow County, mostly Bray, Wicklow, Rathdrum and Arklow. While convenient to reach these towns, the train does not offer accessibility to smaller villages and more remote areas, so we don't really recommend it as an efficient way to explore the Wicklow mountains or to hikers.
Taking an Organized Wicklow Mountains Tour:
If you'd prefer to leave the transportation and planning to someone else, there are of course plenty of Wicklow Mountains tours from Dublin to choose from:
Wicklow Mountains Glendalough: Half-Day Tour from Dublin (Rated 4.7 / 5 from 220+ Reviews): A 5-hour tour leaving from Dublin, this tour takes you into the mountains to the 6th-century Glendalough monastery, while also giving you time to experience the spectacular scenery and nature of the area. Check Prices & Availability
Wicklow Mountains, Glendalough and Lakes Tour from Dublin (Rated 4.6 / 5 from 95+ Reviews): A full-day 9-hour coach (bus) tour leaving from Dublin. Whereas the half-day tour mainly focuses on Glendalough monastery and the scenery in the area, this tour includes Glendalough monastery with some additional bells and whistles: a stop at a handweavers' mill to see weavers in action, a visit to the village of Avoca, a whiskey tasting at a local pub, and – of course – some gorgeous scenery. Check Prices & Availability.
Kilkenny and Wicklow Mountain Full-Day Tour from Dublin (Rated 4.4 / 5 from 280+ Reviews): This full-day tour starts off in picturesque Kilkenny, where you can explore this former medieval capital, try a pint of Kilkenny beer in its home city, check out the castle, and do a bit of shopping. Following Kilkenny, the tour continues to St. Kevin at Glendalough. In addition to these stops and the scenery along the way, this tour makes a quick stop at Brownshill Dolmen to see the megalithic tomb. Check Prices & Availability.
Things to Do in the Wicklow Mountains
Glendalough Monastic Site
The most famous site in the whole of the Wicklow Mountains, and one that attracts many international visitors, is Glendalough Monastic Site. Nested in a narrow valley with two interconnected lakes, Glendalough dates back to the 6th Century and is a place of great charm and beauty. The site is said to have been where St. Kevin settled, and now has the remains of the monastic village, a cemetery (part old, part new) and a round tower.
Glendalough is now served by a large car park and visitor centre. Despite the number of tourists, it is still a beautiful sight and worth a visit. The sight of its round tower shrouded by Irish mist lifting from the lake is undeniably beautiful!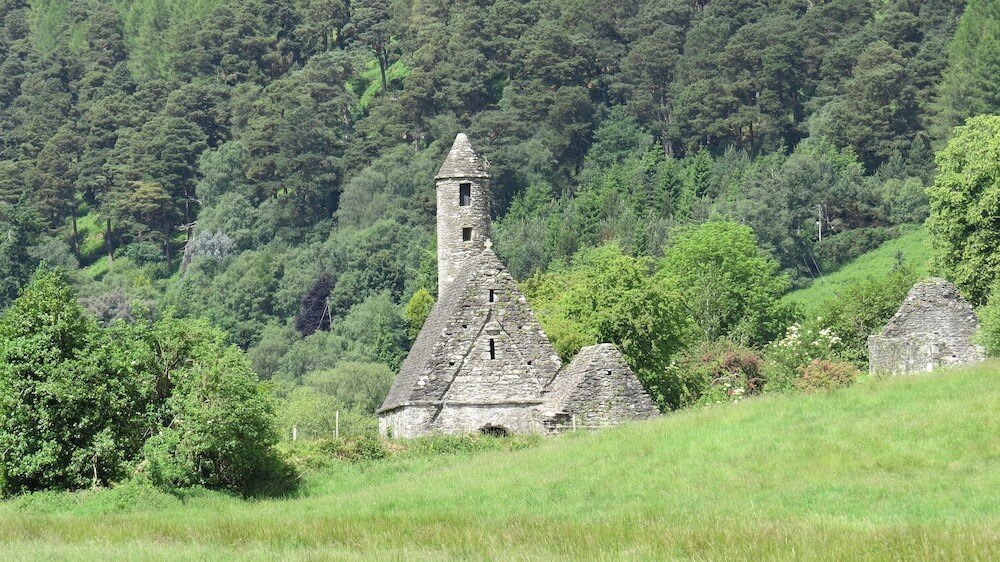 Great Military Road
The Military Road is a route crossing the Wicklow mountains in a North – South direction. Its construction dates back to the 19th century, and the road is still an important route across the Wicklow Mountains as well as a scenic route for visitors.
The road was built in the wake of the 1798 rebellion and its purpose was to open up the mountains to the British Army to assist them in tracking down insurgents who were hiding there.
The road touches on some sites of great interest and beauty, such as Glencree (now a centre for peace and reconciliation, set up as part of the Northern Ireland peace process) and the Sally Gap, one of the most beautiful spots in the whole of the Wicklow Mountains National Park.
Manor Houses and Gardens
As well as natural beauty, the Wicklow Mountains offer manicured gardens and manor houses that welcome you with pleasant nature walks, coffee shops, and, sometimes, plush hotel rooms.
These manor houses make popular destinations for day trips from Dublin and are pleasant to explore, especially if you have kids (many have kids' activities and playgrounds) or you want to enjoy tea and scones in beautiful surroundings.

Some of the most impressive and easy to enjoy are Powerscourt House and Gardens and Avondale House, both surrounded by beautiful walking and nature trails.
Wicklow Mountains Walks
The Wicklow Mountains are criss-crossed by several walking trails, ranging from short half-an-hour walks to strenuous multi day hikes. Here is a selection of some of the most popular Wicklow Mountains hiking options:
The Wicklow Way:
The Wicklow Way is a long, linear road starting from Dublin and crossing the Wicklow mountains for over 120 KM. The hike is marked as strenuous and the recommended amount of time to tackle it is 6 days.
The Sugar Loaf Way:
A shorter but beautiful walk is the Sugar Loaf Walk, starting from Kilmacanogue. This hike takes about 1 hour and 15 minutes, and is steep in parts but offers stunning views sweeping all the way to the Irish Sea. This is a popular day hike for locals and families, but don't let the kids fool you: you need shoes with good grip, as the last part, close to the top, is seriously steep!
Djouce Woods:
This is a pleasant, 3-hour-long loop road, not particularly demanding but offering some nice views over the Powerscourt Waterfall and surrounding forests.
Loch Dan:
Probably my favourite walking route in the whole of Wicklow, the way to Loch Dan is gorgeous and easy. The path starts climbing down quite steeply from the main road, but soon levels off and leads you gently to this secluded and beautiful lake. Encountering deer is common and the lack of visitors and tourist facilities make this hike truly peaceful.
Glendalough Walking Route:
The area of Glendalough is served by several walking routes, ranging from 30-minute strolls to longer hikes. One of the most popular ones in the area is the walk around the Glendalough Lower and Upper Lakes. The walk takes a little less than 2 hours, is not strenuous, and lets you cross some beautiful areas with lakeside scenery and forests.
Due to its large paths and proximity to the main Glendalough Hotel and car park, part of this route is often very busy: avoid weekends and school holidays for the best experience.
Lugnaquilla Mountain Trail:
This is the highest mountain in the Wicklow Mountain range and one its most challenging climbs.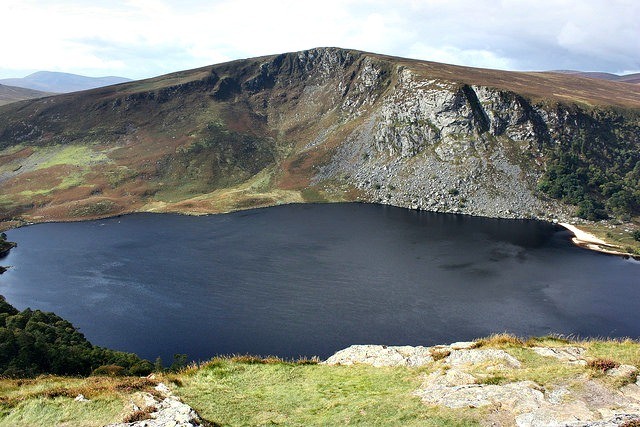 Wicklow Mountains Hotel and B&B Recommendations
The Wicklow Mountains are well served in terms of accommodation, offering options ranging from elegant hotels to small and pleasant B&Bs. Some to consider include:
Brooklodge Hotel: Brooklodge is a stunning hotel perched in a remote corner of the Wicklow countryside. The hotel offers a boutique style experience and has a gorgeous spa onsite, two restaurants, and charming rooms with an upscale country décor. This is the perfect place for a romantic getaway. Rated 9.1 on Booking.com, or check reviews on Trip Advisor.
Hunters: If cottage charm is what you are looking for, then Hunters Lodge, just outside the village of Ashford, is for you. Hunters is an elegant yet cozy and charming hotel with a gorgeous garden with herbs and flowers. It has a lovely restaurant on site and is a pleasure to stay in during both summer and winter, thanks to welcoming and warm interiors. Check reviews on Trip Advisor.
B&Bs: A cheaper but pleasant alternative to hotels in the area are B&Bs. Offering B&B accommodation is common here, and you get rooms in private homes of all sizes. Some are so big and organised you feel like you are in small hotel, rather than a home; others are still very much a small enterprise, and what you experience is a true family welcome.
The selection in the area is vast, but some we recommend are Glen Na Smole, Laragh Mountain View Lodge, and Ballinclea House B&B.
I hope you enjoyed this overview of the Wicklow Mountains. Hope to see you here soon!
---
More Ireland Trip Planning Resources
---
Like this Guide? Pin it for Later!