Hungarian Horse Show Kalocsa, Hungary: Getting to Know Hungarian Cowboy Culture on Viking Cruises' Passage to Eastern Europe River Cruise. Visiting Bakod Puszta for a Hungarian Horse Show.


As with so much in Hungary, it begins with alcohol. Wine, to start: red and white. And then Palinka, the rocket fuel/fruit brandy that finds its way into every social event in Hungary, no matter the time of day.
It's a little past 9am, and we're at Bakod Pustza, one of the most prominent horse ranches in the country, and the first stop on our Passage to Eastern Europe river cruise with Viking Cruises.
Hungarians, our guide explains, are an equestrian people. More than 1,000 years ago, Magyar tribes made their way across the central Asian steppe to Hungary, conquering the Carpathian basin and establishing the Kingdom of Hungary among a sea of Slavic neighbours. Those who settled the country's Puszta — Hungary's Great Plains — slowly developed an agricultural and equestrian culture unlike anywhere else in the world.
And Viking brought us here to experience it, as the first shore excursion on our 11-day Budapest to Bucharest itinerary.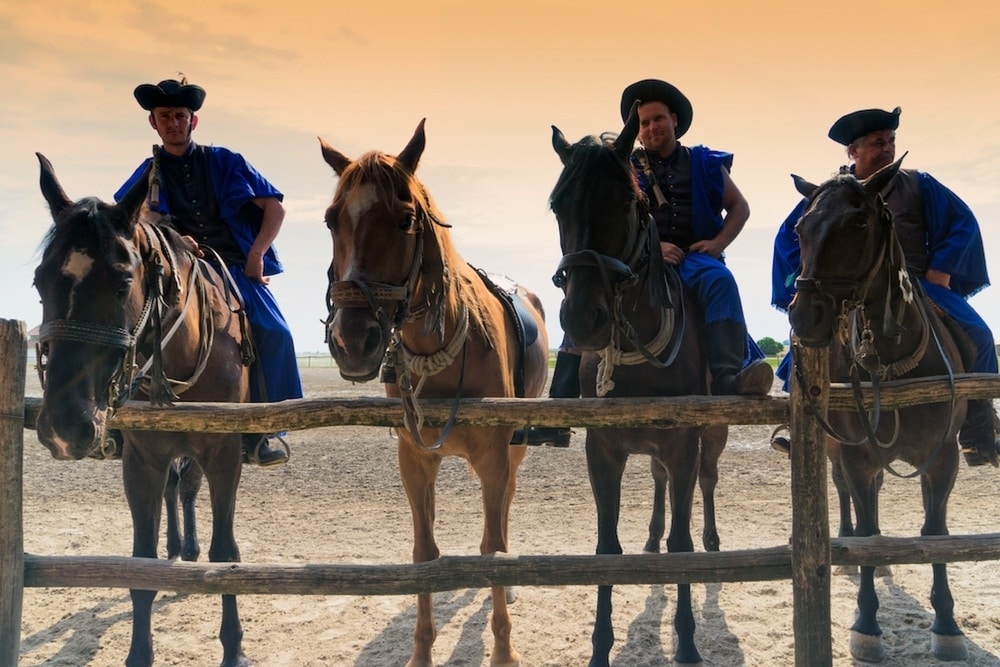 Bakod Pustza was established in 1997.
After the fall of communism, horse farms and clubs popped up across the country as Hungarians set about rediscovering their centuries-old equestrian and agricultural roots.
Today, Hungarian cowboys — csikós — train here, learning skills to conquer the plains like their ancestors and tend to the unique livestock of this area. Most notably, visitors can see the majestic Hungarian Grey Cattle, a species which until now I've only known from the menus of Budapest's burger joints, and the curly-haired Mangalica pigs, which you can see in photographs hanging above butcher stalls in Budapest (and in the sausages they sell).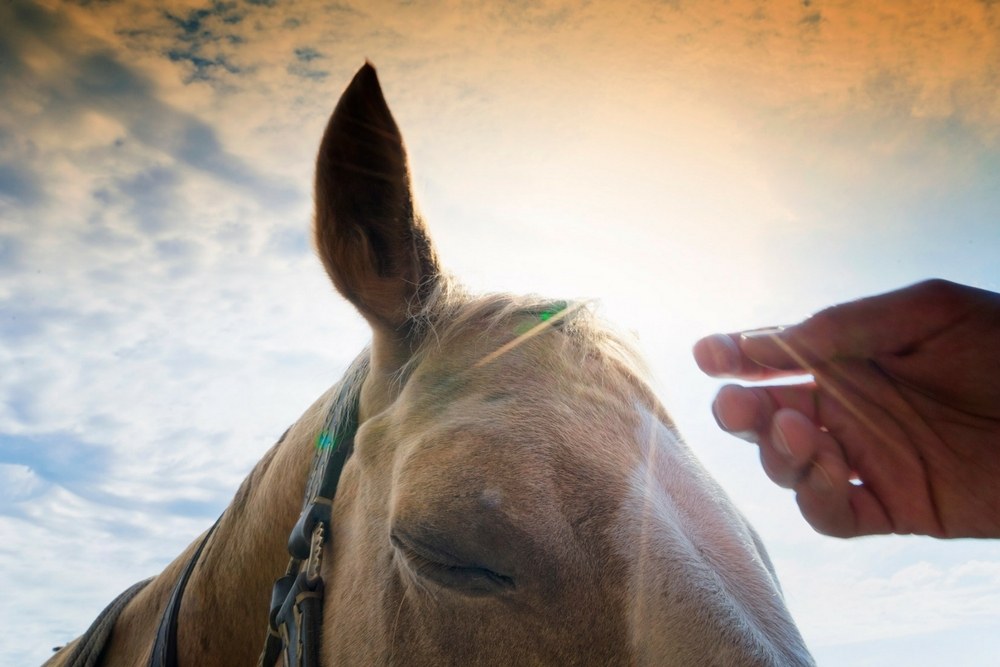 The show begins as four Hungarian Grey cattle thud to life, massive silver horns curving toward the sky. The species is only semi-domesticated, the announcer explains, which means they're also still semi-wild. And seeing their long, sharp horns crowning their skull, it's clear we never want to be on the wrong end of their wild side.
Standing tall on the cart these beasts pull, a csikó demonstrates how to control the cattle, making their lumbering selves swerve left and right in tight circles, showcasing their power to the visitors.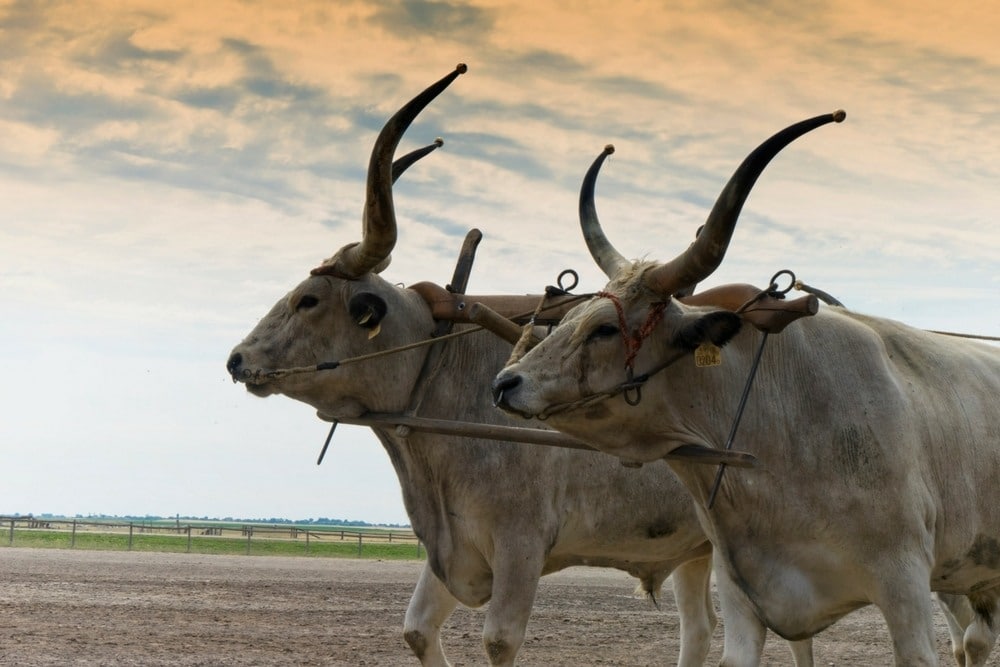 And then the real show begins, as the csikós begin to show off the equestrian skills for which they're famous.
In the past, csikós taught their horses skills that are – to a horse – entirely unnatural. The horses sit, much like a dog, to protect the rider in war. Even more unexpectedly, the csikós taught their horses to lie flat on the ground, like a cat about to pounce, to hide from enemies while on the plain.
Back when these traditions started, csikós' impressive skills were a matter of life or death. Now, Hungarian Cowboys hone their skills as an investment in preserving the long, proud heritage of this part of Hungary: the Pustza.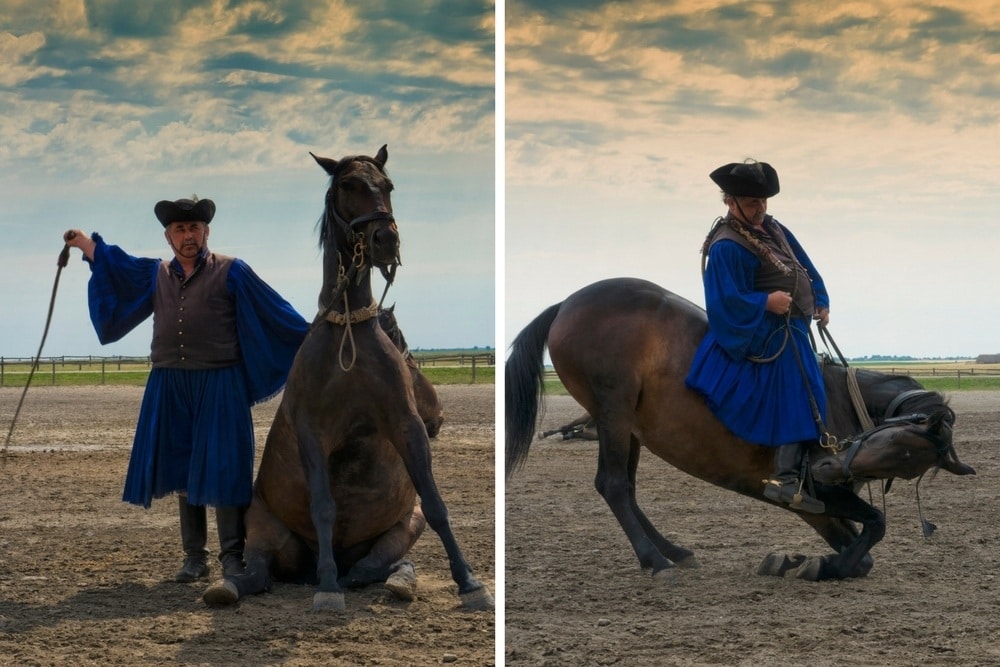 [clickToTweet tweet="Hungarian cowboys hone their skills to preserve the long, proud heritage of the Pustza." quote="Today, Hungarian Cowboys hone their skills as an investment in preserving the long, proud heritage of this part of Hungary: the Pustza."]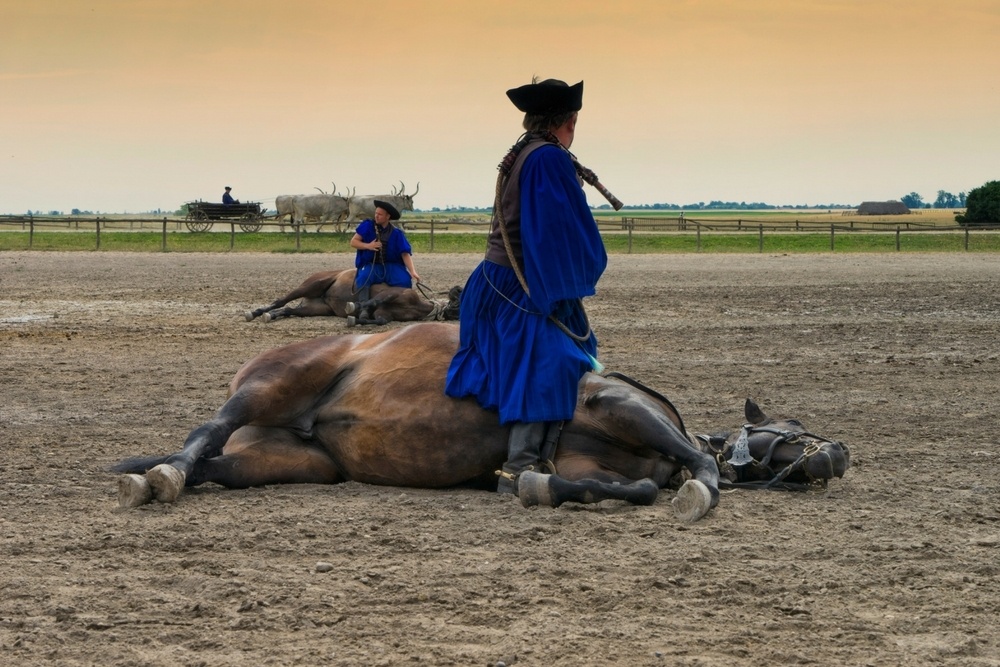 Finally, the show reaches its crescendo, as thecsikós demonstrate their most impressive riding skills: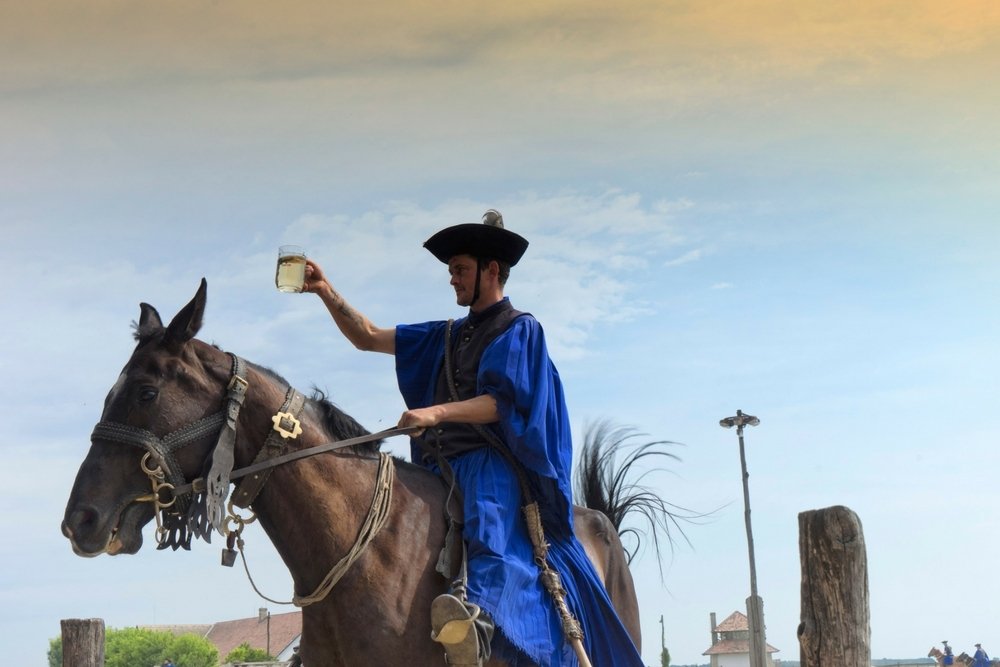 Carrying a full mug of drink while galloping…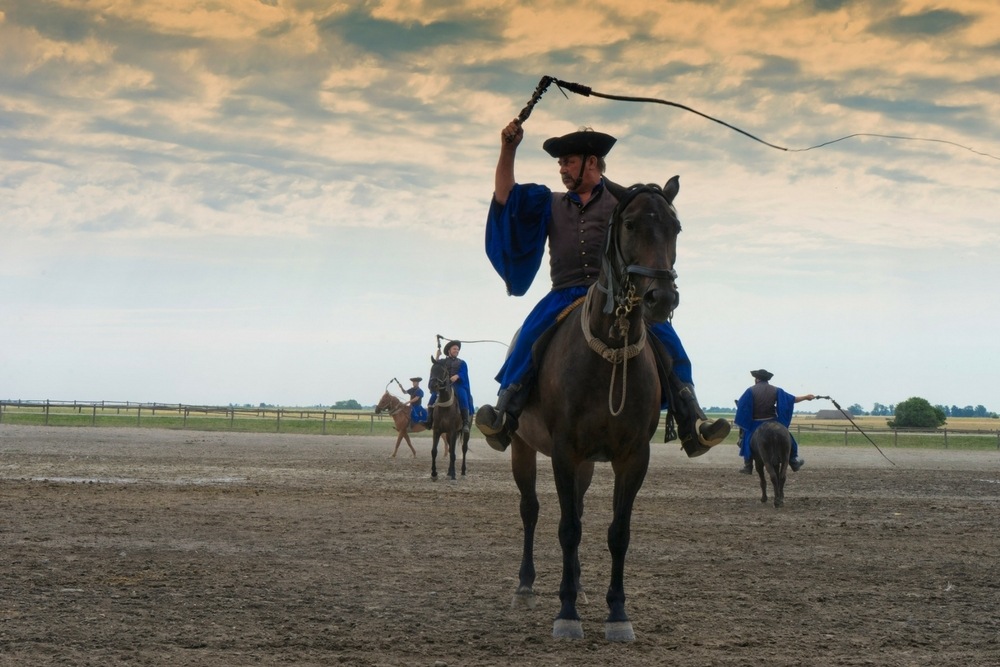 Using their whip to cut down wooden pins as a display of hunting prowess…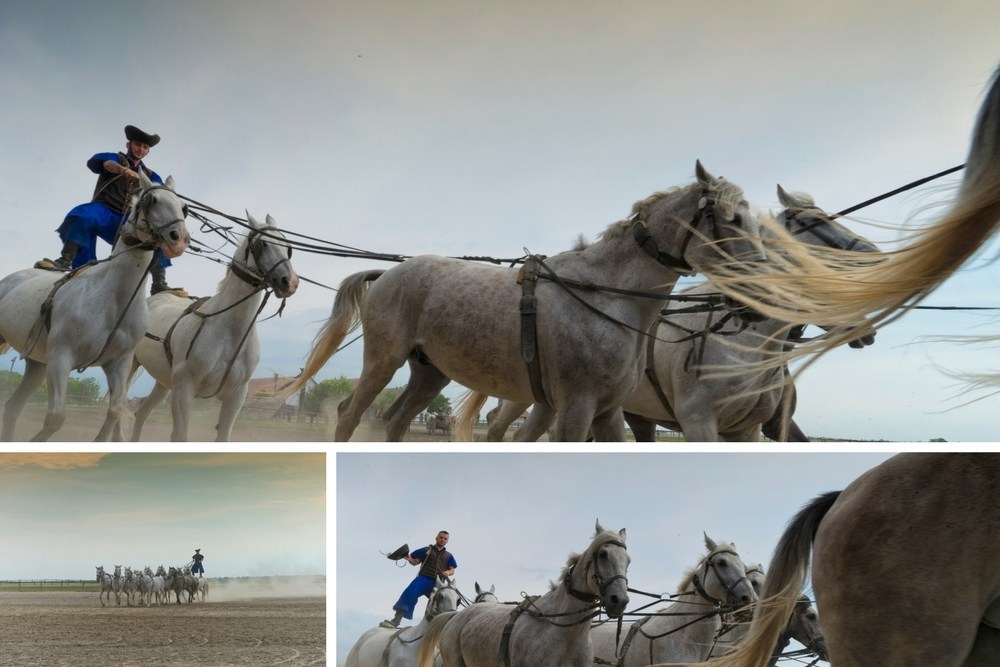 And standing tall on horses in full gallop — the most death-defying feat of the show. Spectacular.
---
We visited Bakod Pustza as guests of Viking River Cruises on their Passage to Eastern Europe river cruise. This 11-day, 5 country cruise took us from Budapest to Bucharest, and included stops and excursions in Hungary, Croatia, Serbia, Bulgaria and Romania. At the time of writing, sailings are still available for 2017, with 2018 sailings starting on March 14.
You can read more about our experience by following these links:
Read More
Check Out These Related Posts Below, or Click Through to our Hungary Home Page to Plan Your Trip!
Like This Post? Pin It for Later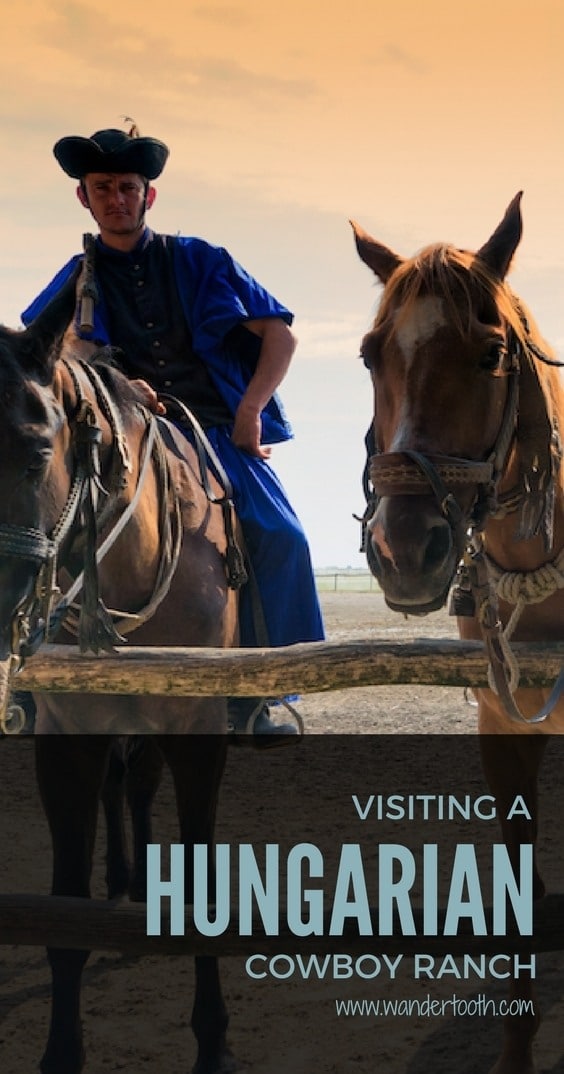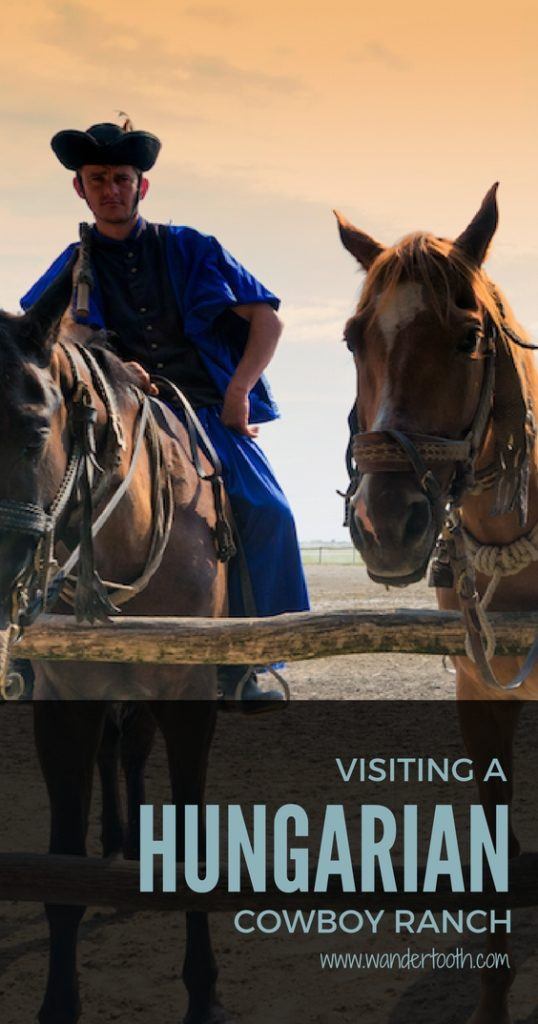 ---